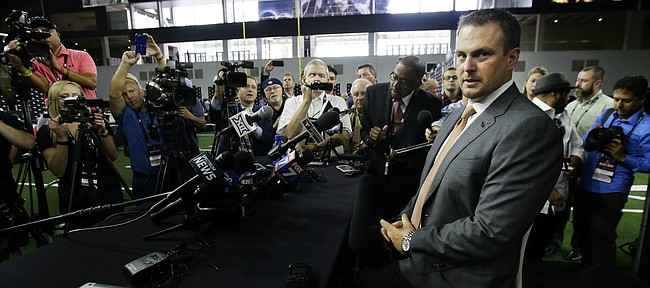 Frisco, Texas — After being named the head football coach at Texas in November, Tom Herman has spent the following months trying to develop a competitive culture.
"In our first team meeting," Herman said, "I said raise your hand if you've been on a winning Texas football team, and only three people raised their hand."
The Longhorns haven't reached a bowl game since 2013 and Herman has set up a system with internal team competitions each day. When players win competitions, they are rewarded with better breakfast meals than the losers, T-shirts and other incentives.
Texas players said they are confident that all of the competitions only makes them bring out their best each day. The Longhorns lost in overtime to Kansas last season, 24-21.
"The biggest, maybe, downfalls of a lot of teams is you get used to losing," said Herman, who had a 22-4 record at Houston.
Baylor confronting past
First-year Baylor coach Matt Rhule is trying to build a new culture within the football program, but he isn't shying away from its troubled past.
Taking the job following a sexual assault scandal, Rhule said the team has stressed the importance of everything off of the field and in the classroom.
"If we don't talk about it, if we don't learn from it, then what was the point of it?" Rhule said. "I want to move forward, but I want to move forward always acknowledging the past."
Rhule, who coached for four seasons at Temple, said he hopes that Baylor can become a new leader in developing ways to educate others in sexual assault and gender violence issues.
Mike Gundy enjoys mullet
Walking into the Big 12 media days Tuesday at Ford Center, Oklahoma State coach Mike Gundy was sporting his trademark mullet.
Gundy, in his 13th year with the Cowboys, noted that he recently trimmed the back of his hair because it was reaching the length of a ponytail. But he's enjoyed all of the attention his hair has received and believes it's generated millions of dollars in air time for the program.
"I was very fortunate to get a new contract and should probably get an extension and a raise for that free marketing for the university," Gundy deadpanned.
West Virginia fitting into the Big 12
After joining the Big 12 in 2012, West Virginia football coach Dana Holgorsen said the school feels like a member of the conference for the first time.
Holgorsen noted the Mountaineers are more comfortable with all of the teams in the conference, plus familiar with the facilities and fan bases.
"It just feels like we belong," Holgorsen said. "It's not just what we're doing in football. It's all the programs and just the overall athletic department in general."