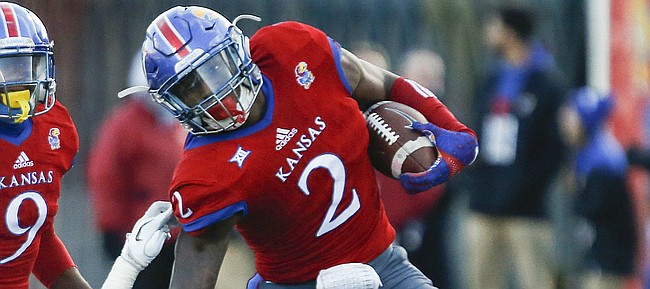 Frisco, Texas — So far, third-year Kansas football head coach David Beaty has something in common with the three other men, one interim head coach and two permanent ones, to fill the office once held by Mark Mangino.
Beaty, too, has won one Big 12 football game.
Turner Gill's team came from way behind to defeat Colorado. Charlie Weis scored a victory vs. West Virginia. Clint Bowen, who coached eight games after Weis was fired, inspired the Jayhawks to a victory against Iowa State.
Gill, Weis and Bowen weren't able to carry any momentum from the victories into the next week even.
Every outcome seemed like a big one at the time, but lest anyone had any doubt as to the biggest Kansas football victory since Mangino and his quarterback, Todd Reesing, rode out of town, it should have been washed away Monday by the attention paid at Big 12 Media Day to Beaty's comeback, overtime victory against Texas in the second-last week of last season.
For the purposes of Media Day, it gave reporters, many but certainly not all from the state of Texas, a focal point for stories from outlets that might otherwise have blown off Kansas entirely.
Beaty started by saying that just winning a Big 12 game, regardless of the opponent, was big. But as the day moved on, he revealed just how much the game meant.
"It did help us because as much as I want to minimize it, I can't walk anywhere without people going, 'Love that game against Texas.' I think a lot of the world was tuned into that game, at least for the overtime," Beaty said.
Including people with important jobs, people who don't typically pay attention to KU football.
"I met someone from the Defense Department who was traveling the other day," Beaty said, "and she said, 'Hey, y'all beat Texas.' I said, 'That's pretty cool that you know that.' "
A native Texan who coached high school football and as an assistant for two Div. I programs in the state, Beaty recruits heavily in the Lone Star state. One victory doesn't move a school into another recruiting echelon, but it did more for KU than a typical game.
"It's yet to be seen how good our recruiting was, but I know that it certainly didn't hurt because every living room I was in talked about that game," Beaty said. ". . . I think that game showed that all of the things that are being said in Lawrence, Kansas, all of the things that are being done in Lawrence, Kansas, that game showed some justification of all of that work," Beaty said.
Junior defensive end Dorance Armstrong, the Big 12's defensive player of the year, had a huge game against the Longhorns, who didn't recruit him.
"It felt great," Armstrong said. "It was a good win for our program, our coaches and just the university itself. But now that's behind us and we'll take what we learned from that game and bring that same mindset it into camp, which starts in two weeks and throughout the rest of the season."
What lessons?
"We learned how to finish a game," Armstrong said. "We learned what it looks like to finish a game and what it feels like to finish a game. Now we'll try to do that over and over again."
Sophomore left tackle Hakeem Adeniji said, "It just did a number for our confidence in showing us there was a method to what we were doing. I feel like it's a platform that's going to elevate us into this season because now we know how to win, know what to do. In that aspect, it's huge for us."
KU didn't follow it up with a victory, but came much closer than any recent KU team coming off a Big 12 victory, losing to Kansas State, 34-19.
"I think the carryover was direct," Beaty said. "It's a shame, without some of those mistakes we made early in that game, it might have been a little different, but you don't get second chances."
In the two games following his Big 12 victory, Gill's teams were outscored, 68-17, Weis' 65-10, Bowen's 95-20.
In contrast, the echo of KU's first victory over Texas since 1938 carried beyond Manhattan and spread across the nation, even into the Defense Department.
More news and notes from Big 12 media days