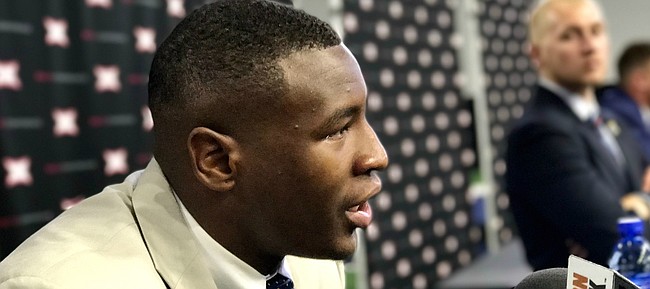 Frisco, Texas — Riding home this past week from picking up the cream-colored suit he would wear at Big 12 Media Days, Kansas defensive end Dorance Armstrong Jr. saw a giant surprise out the window. High above the city street soared his likeness, on a massive KU advertisement.
"Oh, man. That's huge. I never thought I'd see myself on a billboard with my college uniform on," Armstrong recalled Monday at Ford Center.
Actually, the signage qualified as the junior defensive lineman's second shock of the week, seeing as how his preseason Defensive Player of the Year honor also caught him off guard.
The fact that Armstrong, a consensus all-conference performer as a sophomore, didn't have the Big 12 distinction on his radar, teammates will tell you, proves his character.
"Dorance is a real humble guy," said sophomore KU offensive lineman Hakeem Adeniji, who spent many a practice down over the past year trying to out-maneuver the 6-foot-5, now-253-pound defensive force. "He doesn't really care about the outside. He's focused on doing his job and helping the team win. He's a real team player. We love it. You've got to love having him as a teammate."
Armstrong said he never really considered himself the face of the program until seeing that billboard in Lawrence. But every time the Houston native entered a room for an interview or photo opp, that much was clear. At past Big 12 Media Days, Jayhawks often arrived rather anonymously, without the attention or recognition of their counterparts from Oklahoma, Texas and other more successful programs. Redshirt junior linebacker Joe Dineen, who also represented KU a year ago at the media event, said he could tell Big 12 peers spotted Armstrong from afar.
"Rightfully so," Dineen added. "I mean what he did last year (20 tackles for loss, 10 sacks) was crazy. I think people know who he is."
Entering his third season as KU's head football coach, David Beaty said making the media rounds opened Armstrong's eyes to how much he is respected.
"I think it was humbling to Dorance. I don't think he expected that," Beaty said. "He's such a quiet guy by nature that I don't think he expected guys from other teams coming up and introducing themselves to him. To me that's always been a mark of respect."
Armstrong's whirlwind of a past week didn't astonish his teammates in the same fashion.
"I wasn't surprised at all," junior defensive tackle Daniel Wise said of his buddy's preseason player of the year nod. "He's earned it. He put in the work and he deserves it."
What does it say about Armstrong that he wasn't obsessing over such potential recognition?
"It says that he's a great guy. It says that he's a humble dude and it wasn't his focus," Wise said. "His focus was to get his team to where they need to be and not focus on himself. And by him not expecting that, it means a lot."
It wasn't that Armstrong doubted his chances to make such a splash; he just never contemplated it.
"It's an honor, that award," the D-end said of media expecting him to be the best defender in the Big 12 in 2017. "I'm thankful for it. Thankful for my teammates, my coaches for helping me get to it. From now on it's just motivation to get to it."
The preseason adulation doesn't exactly fire up Armstrong. But now that he knows people think so highly of him, he can't help mulling over the end-of-season version of his defensive award.
"I actually want to go get it now," he said.
More news and notes from Big 12 media days