When Peyton Bender arrived in Lawrence as a challenger to Carter Stanley's job as the starting quarterback at the University of Kansas, Stanley didn't view Bender as an adversary. In fact, KU's incumbent No. 1 QB welcomed the man recruited to possibly replace him with open arms.
The two competitors hit it off once Bender, a former Washington State quarterback, enrolled at KU in January. Both quickly discovered during the constant hours they spent together at Anderson Football Complex, through meetings, workouts and study sessions, that they shared similar personalities.
If anything, the quarterbacks became more friends than foes during the spring semester, even as they tried beating each other out for KU's yet-to-be-announced starting QB gig. By the summer, they were living under the same roof.
Bender, who transferred to Kansas from Itawamba Community College (Miss.), credited Stanley's approachable personality for helping them connect in the midst of going head-to-head.
"Carter's a great guy. I feel like we clicked from the first day we met," Bender said. "Just a genuine guy and he wants the best for the team, whether that's him playing, me playing, whatever. We both want to win. So I feel like we've both got good chemistry and the fact that we're in a competition, it's not really me versus him. I just try and go out there and compete versus myself."
While Stanley said a lot of people who hear about the arrangement are surprised, the duo began living in the same duplex following the spring semester, along with KU junior linebacker Hudson Hall. The three of them, as well as junior quarterback Keaton Perry, will move into a different house before the fall semester.
Had Stanley, who started the final three games of his redshirt freshman season and helped the Jayhawks topple Texas, been standoffish when Bender joined the team, it could have formed a rift, and potentially suppressed the positive momentum the program experienced entering David Beaty's third season as head coach. Stanley took the high road, though, and both quarterbacks feel as though they have benefited from their congenial relationship.
Bender doesn't expect their bond — or living situation — to sour as the competition heats up during August camp, when one of them is likely to be named the starter and the other the backup. He said quarterbacks at his other stops in college football always seemed to get along, too.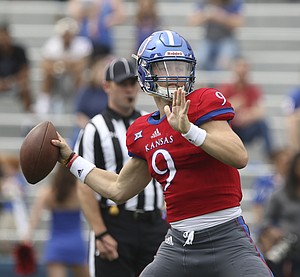 "I think what it comes down to is what's best for the team and it's not for me to make the decision on who plays," Bender said. "So I can't hold a grudge against (Stanley) for a decision I can't make."
Neither outperformed the other enough during an evenly matched spring to earn the early distinction of No. 1 QB. Stanley said that likely fueled both he and Bender as they continued their offseason preparation the past couple of months.
"We work out together. We definitely do a lot of the things within this building together," Stanley said. "We're definitely around each other and we're pushing each other 100 percent. We both realize it's still a competition, still a starting job at stake, so we're working hard, and obviously one man's going to get it, but it's been a good competition."
Bender and Stanley will be seeing a lot of each other in the months ahead — on campus, on the road and at home. But they expect their alliance will ease any potential tensions to come.
"I think we've just hit it off from the beginning," Stanley said. "From when I met him I think we've just been good friends and it's been a good relationship."