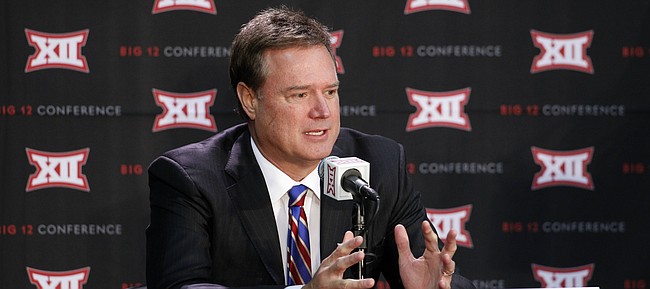 University of Kansas men's basketball coach Bill Self said Thursday he had not received any information about the reported rape at the team's dorm that would warrant discipline of players.
"We've been given zero information that would warrant suspensions or anything like that that's connected to our players at this point in time," said Self, speaking during his regular weekly news conference at Allen Fieldhouse. "I certainly will act on it if any information is given to us in the future that would warrant such action."
Self added: "With that being said, you have to let the investigation play out. That's what's most important, and the detectives need to do their job."
No. 2 Kansas will travel to Lexington, Ky., this weekend for a Saturday game with No. 4 Kentucky at Rupp Arena.
Self called the reported rape "a major distraction" but one that was serious and important for the team to deal with.
"In general when you talk about distraction, you look at it how it affects us, but more importantly, there's an obviously very serious allegation that has been made," Self said. "So that trumps figuring out how to guard (Malik) Monk or (De'Aaron) Fox... It's not what we want to do, but certainly there is a requirement at this point in time."
A 16-year-old girl was reportedly raped between 10 p.m. Dec. 17 and 5 a.m. Dec. 18 at McCarthy Hall, 1741 Naismith Drive, according to the publicly available portion of the related KU police report. In addition to rape, other crimes reported were contributing to a child's misconduct, furnishing alcohol to a minor and possession of drug paraphernalia, according to the report.
McCarthy is the on-campus apartment building that is home to the KU men's basketball team and other male upperclass or transfer students.
The Journal-World first requested the police report and published a story on the allegations Tuesday. KU police added the incident to their online daily crime log 10 days after the rape reportedly occurred, and a Journal-World reporter found the entry while searching past months of log activity.
The investigation remains open, and police have released no information about a possible suspect. Police have said the 16-year-old victim, who was not a KU student and not from this area, was visiting residents in the building. KU police deputy chief James Anguiano declined to answer who reported the rape.
A runaway juvenile also was reported at McCarthy Hall the morning of Dec. 18. Police would not confirm whether the runaway and the reported rape victim are the same person.
All five witnesses named in the police report for the rape are basketball players. The one witness named in the runaway report also is a basketball player. The reports indicate police also contacted a KU Athletics administrator in connection with the rape report and the same two 19-year-old women in both cases.
At Thursday's media conference, Self said he could not speak to what type of information his players had given police, though he reiterated what police also have explained: that a witness in an investigation does not necessarily mean an eyewitness to a crime, but rather someone that may have been in the area before or after, or have other pertinent information to the investigation.
Self also was asked when he and KU Athletics officials learned of the report and what conversations they had.
Self did not confirm a date but said he and athletics leaders had talked about it.
"We met it head on," he said. "When the administration was made aware of it, I obviously was, as well."
Self bristled at a question implying KU Athletics was holding back information.
"There's nobody withholding information at all," he said.
He said it's not the team's responsibility to report everything the police department does. He said police must follow protocol and that they are the ones with control over the timeline of the investigation.
Self said he looked forward to finding out the facts.
"Hopefully that'll happen sooner rather than later," he said.
He said the team would be practicing Thursday.
"There are some people that aren't real happy right now that will, I'm sure, use the basketball court as a way to kind of get away from the distraction," Self said. As for Saturday, he said, "I know that our guys will be excited to play. This will not be an excuse if we don't play well, and it won't be a motivating factor if we do play well. It's going to be a situation that guys are going to have to use the basketball court as a way to kind of bond together."
Self gave similar comments regarding the matter during Thursday morning's Big 12 coaches teleconference.
Dec. 16 was the last day of fall finals on the KU campus. The night of Dec. 17, the KU men's basketball team played Davidson College at the Sprint Center in Kansas City, Mo.
Students living in campus apartments — including McCarthy Hall — can stay over winter break, KU Student Housing director Diana Robertson said.
As for security, McCarthy has the latest technology. Robertson said the 2015 building has biometric access for residents at the entry doors, stairwell doors and elevators, and at the apartment doors.
Have a tip or story idea?
---
More stories