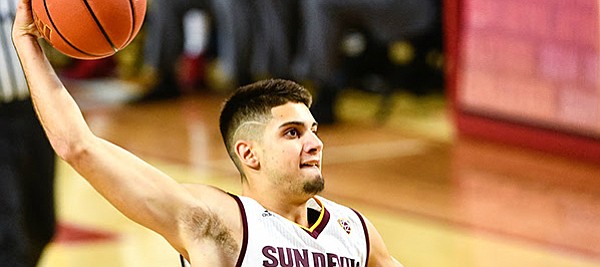 When it comes to recruiting, there are few things as valuable as making it official. And on Friday evening, that's exactly what the Kansas men's basketball team did with Arizona State transfer Sam Cunliffe.
Cunliffe, a 6-foot-6, 200-pound Seattle native who transferred from ASU after the first semester of his freshman season, officially joined the Jayhawks Thursday and is eligible to begin practicing with the team immediately.
He will sit out the upcoming semester and the first semester of the 2017-18 season and be eligible to compete for the Jayhawks one year from now.
KU coach Bill Self said the opportunity to add a player of Cunliffe's ability is great news for the Jayhawks both now and in the future.
"We'd seen Sam play in high school and thought he was a great prospect," Self said in a press release. "Sam is a guy that is very athletic and can really shoot the basketball. He will be a player that will impact our program the day he becomes eligible. A lot of people view the year sitting out as a negative, but I think Sam is looking at it as a positive — to come in here, get acclimated and practice against some really good players. He wants to get better and will have an impact on our program that enhances our opportunity to have a good team next year."
Cunliffe started all 10 games he played at Arizona State in the fall of 2016 and averaged 9.5 points and 4.5 rebounds. He was 15-for-37 (40.5 percent) from 3-point range with five steals and three blocked shots. Cunliffe posted five games with 10 or more points, including a double-double with 23 points and 10 rebounds against The Citadel in November.
Once Cunliffe made the decision to leave ASU, the next step came down to two options.
"I knew I was going to either stay home and go to Seattle U. or go to a school like Kansas," Cunliffe said in the release. "I feel my brand of basketball is how they play at Kansas. They move the ball, under a great coach, and I will be able to play with guys who play at the highest level. I wanted to play somewhere where I could be comfortable and I got all that on my visit.
"I'm an unselfish player who wants to win," Cunliffe added. "I want to get better every day. I feel sitting out a year is good because I can just come in and not worry about playing, just worry about doing things the right way. I want to practice hard and make this team better. I want to make sure to pick stuff up so when I am ready, I can step right in."
Coming out of nationally-known Rainier Beach High in Seattle, Cunliffe was ranked No. 36 in the final 2016 Rivals.com ranking, No. 41 in the ESPN100 and No. 45 by Scout.com.
He averaged 21.6 points, 9.0 rebounds and 3.0 assists his senior season at Rainier Beach and in 2016 led the Vikings to their fourth state title in five years as he was named Class 3A state tournament Most Valuable Player. Cunliffe was the Seattle Times 2016 Player of the Year in the state of Washington.
"We've recruited a lot kids out of Rainier Beach before and (KU assistant) Kurtis Townsend knows everybody up there," Self said.
Cunliffe transferred to Rainier Beach after his junior season, having played for Bishop Blanchet the previous two seasons. He averaged 20.0 points, 5.0 rebounds and 5.0 assists per game during his junior campaign at Bishop Blanchet.
Cunliffe has seven sisters, including, Hannah, is a two-time track and field All-American at Oregon.
Originally a member of the 2016 recruiting class, Cunliffe's addition to a 2017 class that includes Dallas combo guard Marcus Garrett and Top 10 forward Billy Preston brings depth to an already good class.
Garrett, No. 37 according to Rivals, and Preston, No. 8, each signed their national letters of intent during the early signing period last November.