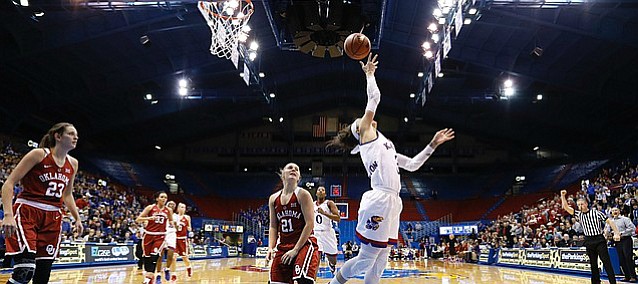 Manhattan — Kansas junior guard Jessica Washington poured in a career-high 31 points in her first taste of the Sunflower Showdown rivalry, but even that wasn't enough for the Jayhawks to put an end to their Big 12 losing streak Wednesday night at Kansas State.
The Wildcats held the rest of the KU roster to 11-for-42 shooting (26.2 percent) and won, 73-60, on a night Washington went 10-for-14 at Bramlage Coliseum, while playing as a reserve for just the second time this season.
Washington's 7-for-10 shooting from 3-point range kept the No. 25 Wildcats (13-4 overall, 3-2 Big 12) from winning by an even larger margin. The 5-foot-8 guard from Tulsa, Okla., scored 17 of KU's final 22 points during the game's closing seven minutes. Washington's three-point total of seven makes beat by four her previous best this year, in her first season of action since transferring to Kansas from North Carolina.
KU (6-10, 0-5) remained winless in Big 12 play after being held to nine first-quarter points and entering the second in a 13-point hole.
Breanna Lewis (15 points, 10 rebounds), Kindred Wessemann (12 points) and Karyla Middlebrook (11 points, seven assists) all scored in double figures for K-State, while only Kylee Kopatich (11 points, six rebounds) joined Washington in that category for the Jayhawks.
KU returns to Allen Fieldhouse for back-to-back home games beginning on Sunday, but the competition won't be easy to overcome for coach Brandon Schneider's group. No. 2 Baylor (16-1, 5-0) visits Lawrence on Sunday (1 p.m.) before No. 18 West Virginia (14-3, 2-3) makes the journey next Wednesday to the fieldhouse.
This season, Kansas is 0-4 against ranked opponents. Last season, the Jayhawks failed to win a single conference game.