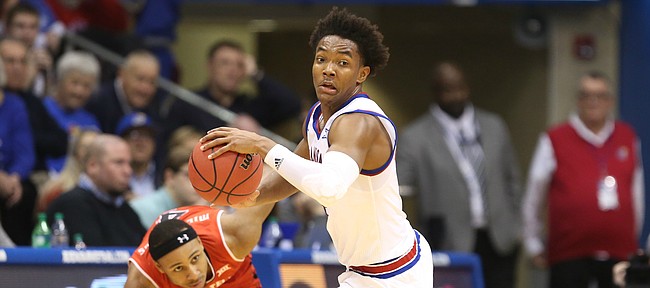 Kansas junior Devonte' Graham entered Saturday night's home game against Texas Tech averaging 12.5 points, 5 assists and 2.9 rebounds in 33.2 minutes per game, but had yet to lead the Jayhawks in scoring.
For a player who many believed could wind up as the Jayhawks' leading scorer for the season — and, really, still could by the end of the year — those numbers, though good, were far from what was expected.
That perspective was from the outside. But, for Graham, who is starting in Bill Self's backcourt for the second year in a row, his focus entering the season was on everything but putting points on the board.
Through 15 games, the 6-foot-2 junior from Raleigh, North Carolina, has been a stat sheet stuffer. He has led the team in assists five times, steals six times and even been the Jayhawks' blocked shot king on two different occasions.
Saturday night, though, during the Jayhawks' 85-68 victory over the Red Raiders, Graham found his scoring touch again and revealed, after the game, that it really never went anywhere.
"The last couple games, I wasn't shooting the ball as well as I had been," he admitted. "But I wasn't thinking about it as a slump. I don't really care about scoring that much. It's just the little things that I like that help the team win."
While his backcourt partner-in-crime, Frank Mason III, closed the game with a flurry and poured in 26 points to lead Kansas in scoring for the 12th time in 15 games, Graham got going early, scoring the first five points of the game and finishing the first half with 10 points on 4-of-7 shooting.
For the night, Graham tallied 20 points on 8-of-14 shooting (4-of-8 from three-point range), good for his fifth-career 20-point game and to move him into 18th place on KU's all-time three-pointers list with 127.
"I felt good," Graham said. "Got a good night's rest, woke up feeling pretty good, went and got me some breakfast, just (was) feeling good all day. Took me a little nap before the game."
That relaxed demeanor, which matched the tone with which Graham recounted his pregame routine, perfectly sums up Graham's personality.
Always with a smile on his face and bursting with energy — be it of the basketball variety or his vast range of celebrations — Graham carries himself like a player who loves playing the game. That love grows when those around him play the same way and Graham said the third-ranked Jayhawks (14-1 overall, 3-0 Big 12) have gotten off to a great start in that department so far this season.
"I think we, everybody's, doing a good job of just playing within themselves, playing within the team, not trying to force any shots because we know we've got plenty of people who can score," he said.
That mentality has KU's three-headed scoring monster of Mason, Graham and freshman Josh Jackson all in the Top 11 of the Big 12 Conference in points per game, with Mason leading all Big 12 players at 19.9 per game, Jackson sitting sixth at 15.3 and Graham 11th at 13.0, just six points shy of a Top 10 spot of his own.
Graham and the Jayhawks travel to Oklahoma on Tuesday, looking for their 15th consecutive win and fourth win in four Big 12 Conference games. Tip-off is set for 8 p.m. on ESPN2.