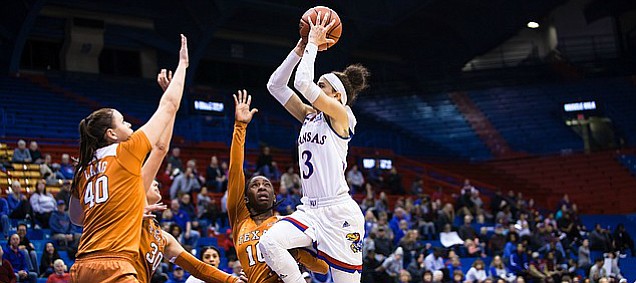 For much of the first half and even parts of the second, Kansas was right there within arm's reach of pulling off the ugly upset over No. 15 Texas.
But the Jayhawks (6-8, 0-3) were unable to consistently hit shots down the stretch and ultimately couldn't match the Longhorns' (9-4, 0-3) superior size and athleticism in Wednesday's 66-54 loss at Allen Fieldhouse.
Normally it would have been considered a feat, as KU matched one of the elite teams in the nation for long stretches of the game. However, second-year coach Brandon Schnieder wasn't interested in moral victories.
"For the most part, yes, I was pleased," Schneider said. "But we are not trying to be in games, we are trying to win games. We are going to have an opportunity to win some games in this league but you have to put it together in all three phases of the game."
The Jayhawks excelled in the defensive phase of the game, creating 31 turnovers by the Longhorns. They were able to camp in the passing lanes and caused stress on the opposition with their aggressive style of play.
All throughout the game, Schneider called out different defensive sets to create confusion. The Longhorns finished with three double-digit scorers, as junior Brooke McCarty led with 15. Junior Ariel Atkins, a preseason All-American, was held to 12 points.
"Any time you win a Big 12 game, you are happy about it," Texas coach Karen Aston said. "But credit to Kansas for making it ugly for us. I thought they did a great job of keeping our team confused and out of rhythm."
Meanwhile, junior guard Jessica Washington did her part to keep her team within reach. Washington netted a game-high 23 points, including 16 in the first half. She hauled in the most rebounds (10) for both teams as well. Washington and McCarty both paced their respective teams in assists with three.
Washington's impact on the game was perhaps the greatest, which was most surprising considering the talent on Texas' roster. The Longhorns have seven McDonald's All-Americans, which is the second-most in the nation behind Notre Dame.
"I think she responded pretty well," sophomore Kylee Kopatich said of her teammate. "She noticed a lot of them were collapsing on her, which she should of because she's amazing at driving and layups."
Washington first got going with 3:24 to go in the first quarter, netting a jumper from just inside the top of the key. It was the team's first made basket of the game, while Texas jumped out to a double-digit lead out of the gate.
Once the first shot fell, the rest began to pour in. Washington opened the second period with the team's first nine points, pulling her team back within a single possession.
In fact, Kansas pulled within three points on three different occasions in the second quarter. But Texas had an answer every single time, to go into the intermission up 35-30.
"I thought Jessica did a pretty good job of attacking the pressure and getting to the free throw line," Schneider said. "She had some flurries, where we are in the game because of her play."
The tires began to finally give out in the third period.
Washington began to show fatigue, and even went to the bench for the first time all evening after getting dinged up on a play. The Jayhawks were unable to find any sort of offense in her absence.
By the time she returned, the Longhorns had a firm advantage and it was never in doubt as they cruised to their second straight 3-0 start in league play.
"I thought we played well enough defensively to give ourselves a chance to win," Schneider said. "But you can't have a quarter, the first and the third, where we shoot as poorly as we did. We have to continue to strive to get more easy baskets and knock down more open shots."
Kansas will travel to Iowa State at 1 p.m. Sunday.