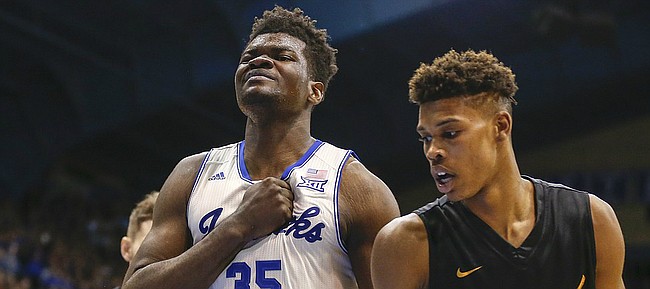 Kansas freshman center Udoka Azubuike won't be returning to the court any time soon, but the 7-footer and his coaches received some good news about his injured left wrist.
Azubuike, who tore ligaments in his wrist during a late-December practice, had successful surgery Wednesday morning, according to KU head coach Bill Self.
"The doctors informed us the procedure on Udoka was a complete success and we expect a full recovery by mid-summer," Self said in a release.
Azubuike traveled to Akon, Ohio, for the procedure, where Dr. Thomas Graham of Northwell Health of New York served as the lead surgeon.
Azubuike played in just 11 games for Kansas before suffering the season-ending injury. The 17-year-old big man from Nigeria averaged 5.0 points and 4.4 rebounds in 12.9 minutes, and started his final six games for the Jayhawks (13-1).
Even after missing the previous three games, Azubuike remains the team's second-leading shot blocker on the season, with 18, trailing fellow freshman Josh Jackson's 19.
In his absence, senior Landen Lucas has returned to the starting lineup and produced consecutive double-doubles, but KU's frontcourt depth took a hit with Azubuike's injury. Lucas and sophomore forward Carlton Bragg Jr. are the only traditional big men Self trusts with extended minutes at this juncture of the season.