As the son of head coach Bill Self, Tyler Self grew up in Lawrence absorbing Kansas basketball on a number of levels. The program has been a part of Tyler's existence for so long he can remember what it was like to see the Jayhawks come up short of a Big 12 title at the completion of a regular season.
While obviously not as intricately involved as his father, Tyler, since the elder Self became KU's head coach nearly 14 years ago, has felt as much a member of the KU basketball family as anyone. It gives the walk-on guard a unique outlook ahead of Monday's home finale versus Oklahoma (8 p.m., ESPN), which doubles as Senior Night for Tyler, Frank Mason III and Landen Lucas.
"I don't know how much insight," Tyler said, when asked how being around the program since the age of 9 shaped his point of view, "but it definitely brings passion and love for the university, for the team. I try to share that as much as anything."
http://www2.kusports.com/users/photos/2008/apr/07/144794/
For the first time since his days of playing for Free State High, Tyler, a 6-foot-2, 170-pound 12th man for the Jayhawks (26-3 overall, 14-2 Big 12), will trot on to the floor after hearing his name announced as a member of the starting five with Mason, Lucas, Devonte' Graham and Josh Jackson.
A fifth-year senior (he received a medical red-shirt for 2013-14 after appearing in 11 games as a true freshman), Tyler doesn't know what thoughts will go through his head just before the opening tip, as a first-time starter in his final game at Allen Fieldhouse.
"I'm sure I'll be excited. I'm sure it'll be a once-in-a-lifetime experience," he said. "I'm looking forward to it."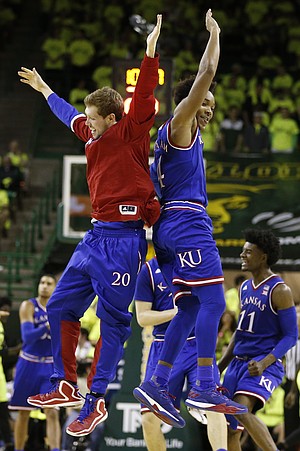 As a fieldhouse favorite with only 25 career shot attempts on his statistical profile (and six makes), Tyler could come out firing without annoying too many people — other than maybe his father — in the opening minutes against Oklahoma. However, he indicated he won't force the issue or enter his lone career start with a "let it fly" approach on offense.
"If I have an open shot," he countered, "I'll take it."
Given Tyler only has spent 86 minutes on the court in 42 cameo appearances over the course of the past four-plus years, it's doubtful any of his teammates would care if he came out looking to score — he enters the game with 14 career points.
"Great kid," Lucas said of Tyler. "Somebody who I've enjoyed being with. He's my roommate, and to go through five years with him has been awesome."
Mason, too, respects what Tyler and junior walk-ons Clay Young and Tucker Vang contribute to the program.
"He works really hard at practice," Mason said of Tyler, "helps us get better, and when it's his opportunity to get out there in a game, he'll be ready, and I can't wait for that to come."
Just like his more renowned teammates, Mason and Lucas, Tyler will not only get to start, but also deliver a senior speech to the KU faithful, following the Big Monday meeting with OU. The coach's son hinted he would keep things light and not attempt to bring Bill to tears, in the fashion of Jamari Traylor's farewell address a year ago — "Jamari's story is pretty incredible," Tyler said, "and he's so loved at this university, I think he kind of touched everybody's hearts."
A spectator at so many other KU Senior Nights, Tyler knows his monologue shouldn't stretch on for too long. Asked which duration would be more lengthy — his speech or his playing time to open the game — the backup guard remained optimistic.
"Hopefully my minutes," a smiling Tyler responded. "Hopefully. I know Evan (Manning) last year went for five or six. He played great. … I'm excited, though."
A KU graduate student who this past spring earned a bachelor's degree in sport management, Tyler predicted his Senior Night might feel slightly different for him, mother Cindy and Bill, because he has been around the program longer than even assistant Kurtis Townsend, but characterized it as his "little 15 minutes of fame."
The walk-on's father is looking forward to the experience, as well.
"It'll be great," KU coach Bill Self said. "Even though he's been here for five years (as a player), he's really not been here for five years — he's been here for (14) years, or whatever, as part of it."
http://www2.kusports.com/photos/2003/apr/22/82638/