One of just a handful of players to suit up for all three coaches responsible for UCLA's record run of 13 consecutive conference titles in the late 1960s and 1970s, Raymond Townsend could do nothing but smile when No. 3 Kansas clinched a share of its record-tying 13th-consecutive Big 12 title with a win over TCU on Wednesday night.
There, in the middle of a celebration that included KU stars Frank Mason III, Josh Jackson, Devonte' Graham, head coach Bill Self and a whole bunch of Big 12 championship garb, stood Kansas assistant Kurtis Townsend, Self's longest-tenured KU aide and Raymond's younger brother.
With all of the big names and storied tradition seeping through the walls of Allen Fieldhouse, Pauley Pavilion and the facilities surrounding both elite basketball programs, the Townsend brothers forever will hold a small part of one of college basketball's most impressive records of both the modern era and yesteryear.
"I am so proud of my brother, Kurtis," Raymond, 61, told the Journal-World via telephone from his home in San Jose. "He has done such a wonderful job in this game at every institution he has worked. He bleeds blue and red, loves Kansas, loves Bill, and it's a neat feeling that my brother and I are part of history in two different eras. I mean, it took 40 years for another team to tie what we did. Think about that. Just to have that kind of record is a legacy that will be in our family forever."
A point guard at UCLA from 1974-78, Raymond played on the last John Wooden-coached team to win a Pac-8 title, two conference title teams coached by Wooden-successor Gene Bartow and the first league title team led by Gary Cunningham.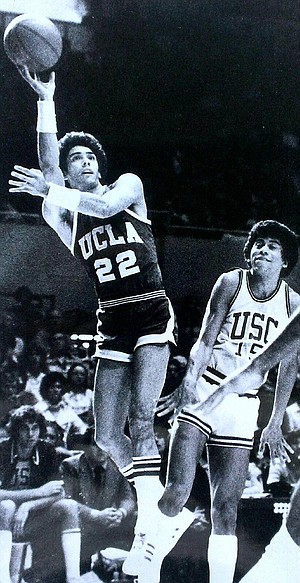 The Bruins, whose streak ran from the 1966-67 season through 1978-79, combined to go 105-15 during Raymond's UCLA career, and, like the current crew at Kansas, did not talk much about winning conference titles year after year.
"No, no," Raymond said. "Because it was expected. It wasn't like we entered the year saying, 'We've got a shot at the title.' It was, 'We're supposed to win it.' At UCLA, you were supposed to win conference titles, you were supposed to get to the Final Four and have a shot to win another national title."
Those same expectations are the standard at Kansas, but Self noted Wednesday, after celebrating No. 13 with his team, that the last part of that equation is what keeps UCLA ahead of the Jayhawks in the grand scheme of things.
UCLA's streak of 13 consecutive Pac-8/Pac-10 titles included eight national titles during a period in which the Bruins won a remarkable 10 NCAA championships in a 12-year span, the last of which came during Raymond's freshman season.
Despite still having a leg up in the national title count, Raymond said it could be argued that KU's run to 13 in a row is more impressive because of the current college basketball landscape and the fact that the NCAA Tournament has become so much more difficult to win, with talented players and teams spread across the country.
"Back in that day, there were only like four major schools on the West Coast and then back east you had the Dukes, Kentuckys, Indianas, North Carolinas," said Raymond, who went on to become the first Filipino-American to play in the NBA. "It was tough to do back then, but I think it's even tougher to do in this day and age, so even more credit goes to Bill Self, who gets different players every year but gets the same results."
KU's streak under Self has been the result of a very simple philosophy. Talented players, dedicated coaches and a few good breaks along the way have helped. But the Jayhawks' ability to block out the noise and focus only on what's in front of them — each game and each season's league race instead of emphasizing the continuation of the streak — has kept things in perspective and limited the intensity of constantly mounting pressure.
Raymond recalled Wooden having a comparable approach and said he saw many similarities between Wooden and Self.
"Coach Wooden always told you that the court is like a book and every different facet of the game is like a chapter in the book," Raymond said. "And one thing we were great at was we could read the book and we could break down every chapter. We could give you our playbook and still execute."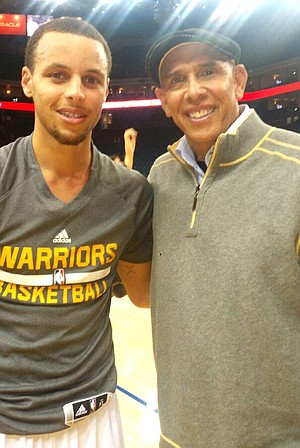 Raymond, who has met Self a handful of times, has admired from afar that same approach taken by the 14th-year Kansas coach, who, in 20 years at Tulsa, Illinois and Kansas, has never finished lower than third in the conference standings. Throughout the streak, sound defense has been a staple of the KU basketball program and Self's players and coaching staffs often have pulled out impressive and important victories when other, less-favorable outcomes seemed likely.
"I think Bill is like the John Wooden of today," Raymond said. "There've been a few, don't get me wrong; but I know what he does with his teams and I know his players have the same respect for him as we had for Coach Wooden."
On top of dishing out that compliment of all compliments, Raymond even offered a guess at what Wooden himself might have thought of Kansas tying UCLA's streak.
"I think Coach Wooden, if he was alive today, would give credit where it's due and would talk about how great of coach Bill Self is, because that's the kind of man Coach Wooden was," said Raymond of his former coach who died at age 99 in 2010. "I'm very grateful, humbled and honored to be a part of the UCLA tradition and to watch my brother do something at Kansas that we did is really special."
https://www.youtube.com/watch?v=sGjP8IuW07Y
https://www.youtube.com/watch?v=VVXuwJ5s3zY
https://www.youtube.com/watch?v=GkJscahsYv0