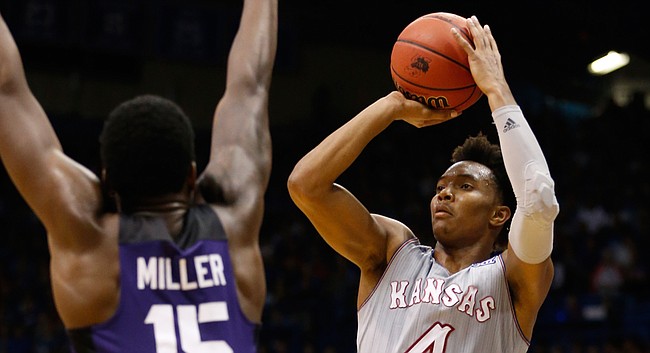 Several hours after the University of Kansas men's basketball team celebrated winning its 13th Big 12 conference title in a row, one of the team's players was arrested after a traffic stop.
Kansas guard Devonté Terrell Graham, 22, was booked into the Douglas County Jail late Wednesday night on suspicion of failing to appear for court, booking logs show. He was arrested on Jayhawk Boulevard.
The failure to appear charge stems from an expired-tag ticket, which was filed in late June in a Lawrence Municipal Court case, court records indicate.
Wednesday was Graham's 22nd birthday.
Graham was released from jail later Wednesday night after posting a $196 bond, according to the logs.
Graham does not have a criminal history in Douglas County District Court.
Graham apologized Thursday morning, via a news release from KU Athletics, for the "inattention" that led to his arrest.
"This is my fault," he stated in the release. "I was driving an ex-teammate's car and I thought the ticket was paid so I didn't pay attention to the Notice to Appear that I got. That's on me, and I apologize to everyone. I learned a lesson the hard way."
Kansas head coach Bill Self, in the release, added: "Devonté made a mistake. This is why we tell our guys to inform us when they receive a citation, no matter how minor. For their sake we don't want something so minor to become a story."
Self said no punishment would be forthcoming for Graham.
"He's obviously a terrific kid and it's a hard lesson to learn. He thought it was handled and it wasn't."
KU police deputy chief James Anguiano provided some information about the incident that led to Graham's arrest.
A KU police officer stopped a vehicle on Jayhawk Boulevard at Sunflower Road, for an unspecified traffic violation, Anguiano said. The suspect, who was driving, was found to have an outstanding warrant and was arrested, Anguiano said.
— Sara Shepherd contributed to this report.
---
Correction: The circumstances that led to Graham's arrest are still unclear as of Thursday afternoon. A previous version of this article cited a traffic violation connected to a court case number listed on Graham's booking log. That case number was incorrect and not related to Graham, the municipal court told the Journal-World. Check back for updates.