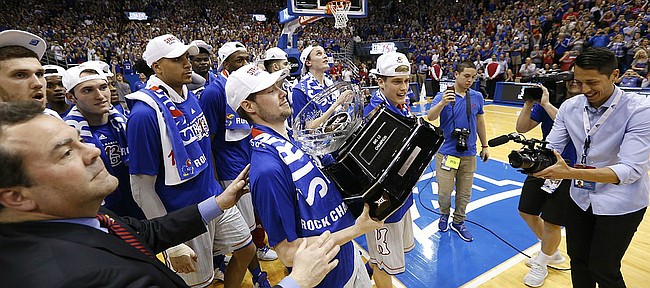 All good parties have a guest of honor. And on Wednesday night at Allen Fieldhouse, the Kansas men's basketball team welcomed 13 of them.
Moments after knocking off TCU, 87-68, in yet another typically tough Big 12 game, Kansas officials escorted 13 shiny, Big 12 championship trophies onto the floor and athletic director Sheahon Zenger handed the newest one to this year's team.
After the third-ranked Jayhawks shook hands with Wednesday's opponents, it was straight to the Kansas bench where hats, towels and T-Shirts reading "13 Straight" were distributed to the team, which partied with fans in front of the Kansas bench while watching a video that recapped 13 seasons of Big 12 dominance.
From there, it was lights out in the old gym and, one by one, tables and trophies were brought to the Allen Fieldhouse floor, a symbol of KU's successful journey to a 13th-consecutive Big 12 title.
Photo Gallery
Kansas basketball v. TCU
View a gallery of images from Wednesday night's game between the Jayhawks and Horned Frogs at Allen Fieldhouse.
KU's victory on Wednesday ensured at least a share of consecutive Big 12 title No. 13, a mark that ties UCLA for the longest such streak in NCAA history.
"It's a great feeling," said KU senior Frank Mason III, who finished with a game-high 20 points in 39 minutes behind the strength of 4-of-6 shooting from 3-point range. "This is what we work for."
Despite the festive atmosphere that followed, Wednesday's victory required plenty of work.
The Jayhawks (25-3 overall, 13-2 Big 12) and Horned Frogs (17-11, 6-9) traded leads throughout the first half until KU led, 40-39, at the break and remained separated by just two points five minutes into the second half. But an 8-0 Kansas run, sparked by a vicious alley-oop dunk from Josh Jackson gave the Jayhawks a 10-point lead and it never dipped below seven the rest of the game.
On a night when four Jayhawks reached double figures and nine different Kansas players cracked the scoring column, it was the play of freshman Josh Jackson that jump-started it all.
In delivering his 10th double-double of the season — 15 points and 11 rebounds — Jackson flashed his all-around game, scoring from inside and out, on drives to the basket, flushes high above the rim and jumpers from distance.
"I thought he played great tonight," said KU coach Bill Self of Jackson, who added four assists and one steal in 26 minutes to his final line. "He only had 15 points, but 11 rebounds and some of the passes he made.... He played really well. He's really got both feet in, and whatever we need he's one of those guys that can actually do it."
There's a reason for that. And it has nothing to do with showcasing himself for NBA scouts or adding to his highlight reel on SportsCenter.
"I'm more of a type of guy who likes to win than have individual success," Jackson said. "So I'm pretty happy with our season and where we're at right now."
Jackson may have been happiest on the bench in this one. After momentarily twisting his right ankle in the first half and heading back to the locker room, it was the bench where Jackson returned five minutes later to a large ovation from the crowd.
And then, late in the game, with Kansas well in control, it was from his comfortable seat on the bench where Jackson made good on an earlier promise.
"It felt great," he said with a sly grin. "I was saying it the whole game. We even talked about it yesterday. We've just been having too many close games lately and we felt like it was time to just give it to somebody. Throughout the whole game I would look at Tyler (Self) and I would tell him, 'You're gonna play today. Don't even worry about it.' I told him a couple times."
Wednesday's 19-point victory was KU's largest in Big 12 play this season and its first by double-digits since a 12-point home win over Texas on Jan. 21. It ended a streak of seven consecutive games decided by six points or fewer.
"I do think it was nice that we didn't have to stress for all 40," Self said.
As Jackson had predicted, that stress gave way to smiles late in the game, as seldom-used Jayhawks Tyler Self, Tucker Vang and Clay Young all checked in for the game's final 66 seconds.
That proved to be the finishing touch on yet another special night at Allen Fieldhouse, where the Jayhawks won their 13th-consecutive Big 12 title, former KU great Brandon Rush had his jersey retired at halftime and roughly 17,000 Jayhawks partied like it was all happening for the first time.
Ever-gracious in moments such as these, Self admitted that "winning never gets old," but added that, as sweet as obtaining Big 12 title No. 13 was, he does not believe KU belongs in the same category as those great UCLA teams of the late 1960s and '70s just yet.
"Let's put it in perspective," said Self of KU tying UCLA's streak, nine of which were won under legendary coach John Wooden. "We won 13 in a row and they won 13 in a row and they won 10 national championships in 12 years and we've won one in 13. So I still think that we've got a little ways to go to actually catch that. I don't think it's right to be put in the same breath."
What Self did think was right, however, was for his team to celebrate. So they did, with friends and fans, teammates and former players.
"I do think it's pretty remarkable," Self said of the streak. "People here will take it for granted, which is fine. But we won the Big Ten back-to-back years at Illinois and there were 5,000 people that greeted us at the airport both years. And here it's awesome, but we got a hat and a T-Shirt."
There's a reason for that. And it's very much the same reason that those UCLA teams never made a huge deal of their conference titles. They were expected.
Whether you're talking about a player like Mason, who told fans after Wednesday's game that the Jayhawks "wanted this bad," or a rookie like Jackson going through the whole spectacle for the first time, the emotions were the same and the next step even more obvious.
"It's just an honor to be a part of it," Jackson said. "But like coach told us in the locker room, we don't really think we've done anything that we weren't supposed to do yet. I mean, we're really happy with it, but we've still got work to do."
— See what people were saying about the game during KUsports.com's live coverage.
---
More news and notes from Kansas vs. TCU
---