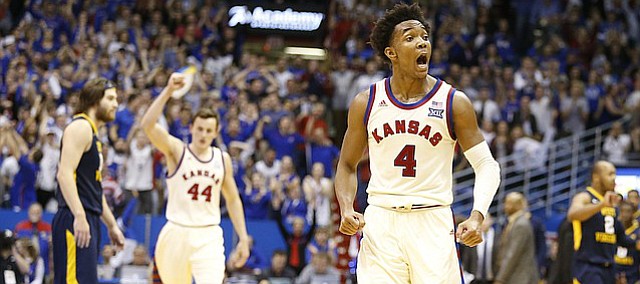 A pair of victories over top-10 teams this past week didn't nudge Kansas into one of the top two spots in the latest Associated Press college basketball poll, released Monday.
Bill Self's Jayhawks remained at No. 3 for the fourth week in a row, following wins over West Virginia and Baylor.
Gonzaga (28-0), the only undefeated team remaining in the country, retained the No. 1 spot, as expected, while defending national champion Villanova (26-2), which has won seven consecutive games, held steady at No. 2.
KU (24-3) stumbled at home against Iowa State Feb. 4 before rattling off road wins at Kansas State and Texas Tech, followed by last week's crucial Big 12 wins over WVU at BU.
It is the fourth week at No. 1 for Gonzaga. The Zags received 59 first-place votes. Villanova received five first-place votes and Kansas got the other No. 1 vote.
Three teams from the Pac-12 — Arizona, UCLA and Oregon — are fourth through sixth. Louisville is seventh, followed by North Carolina, Baylor and Duke.
Baylor, which lost to Texas Tech and KU, dropped five places from fourth.
West Virginia (21-6) dropped three spots, to No. 12, following an overtime loss at Allen Fieldhouse.
Wichita State makes its first Top 25 appearance since last year.
This marks the 10th week this season for KU at the No. 3 spot. The Jayhawks, who have been ranked as high as No. 2 by the AP, have spent 15 of 16 weeks ranked in the top five.
AP TOP 25 — Feb. 20, 2017
No. 1. Gonzaga
No. 2. Villanova
No. 3. Kansas
No. 4 Arizona
No. 5. UCLA
No. 6. Oregon
No. 7. Louisville
No. 8. North Carolina
No. 9. Baylor
No. 10. Duke
No. 11. Kentucky
No. 12 West Virginia
No. 13. Florida
No. 14. Purdue
No. 15. Cincinnati
No. 16. Wisconsin
No. 17. SMU
No. 18. Virginia
No. 19. Florida State
No. 20. Saint Mary's
No. 21. Notre Dame
No. 22. Butler
No. 23. Creighton
No. 24. Maryland
No. 25. Wichita State