On a night when so many wild and crazy things happened down the stretch, it could be easy to forget one player's contribution midway during the first half.
But neither Kansas coach Bill Self nor senior Frank Mason III was about to forget what sophomore guard Lagerald Vick contributed to KU's improbable, 84-80, overtime victory at Allen Fieldhouse on Monday night.
"We didn't get over the hump," said Self of KU crawling out of a deep first-half hole. "But he kept it from being a blowout. We go up 26-21 after being down (10-0) in large part due to him."
Photo Gallery
Kansas basketball v. West Virginia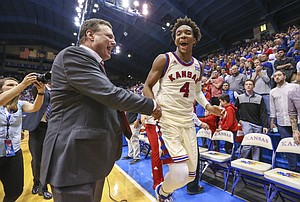 View a gallery of images from Monday night's game between the Jayhawks and Mountaineers at Allen Fieldhouse
Vick, who played just 18 minutes but would have played near 30 if not for foul trouble, sparked the Jayhawks' first-half comeback.
First, Vick drained a couple of 3-pointers from nearly the exact same spot on the Allen Fieldhouse floor. Second, he showed some poise and maturity by resisting the urge to keep jacking shots and instead moved the ball on a couple of occasions, which ultimately led to him finding Mason in the corner for another three that pulled the Jayhawks within three, 21-18, with 8:24 to play in the first half.
"Lagerald came off the bench first half and he was great," Mason said. "Energy, he made some good plays and we need that from him moving forward."
Vick finished with 14 points on 4-of-8 shooting, including 2-of-4 from downtown and 4-of-5 from the free throw line. He also added two rebounds, two assists and a steal.
Mason improving
After an illness over the weekend at Texas Tech negatively impacted his performance, Mason played 43 minutes and finished with a game-high 24 points, including making 16-of-18 shots from the free-throw line to help Kansas grab the victory.
Asked after the game how he was feeling, Mason, still noticeably congested, said he was on the mend.
"I feel a lot better," he said. "(At) Texas Tech, it was just my body, I had the chills, headache, my eyes were really bad and burning and stuff like that. But I've been getting meds and fluids and food and stuff in me like that. Today I felt a lot better. No chills. I think it's just my nose is stuff up and a little cough. I'm feeling a lot better."
Loud and proud
Late in the first half, the KU public address announcer revealed during a timeout that KU fans in Allen Fieldhouse on Monday night were the new owners of the Guinness World Record as the loudest indoor crowd in the world.
KU's record of 130.4 decibels topped the mark previously held by Kentucky's Rupp Arena (126.4), which was set last month during KU's trip to Kentucky. According to Philip Robertson, an official Guinness World Records adjudicator, shortly after that game KU reached out to the folks at Guinness about coming to Lawrence.
Podcast episode
Kansas basketball coach Bill Self talks about his team's 84-80, overtime victory over West Virginia. The Jayhawks trailed by 14 points with under three minutes to play.
Robertson said before the game that Guinness receives between 40,000-70,000 requests for records each year and added that the measurements for records like these tend to be fair and competitive regardless of the size of the venue because the equipment used in the noise reading only registers the noise from the first 50-60 rows.
The official decibel meter for Monday's record was set up in the Northwest tunnel of Allen Fieldhouse where the KU players run out before game time.
No Rowe
Regular Big Monday sideline reporter Holly Rowe missed Monday's Big 12 battle because she was in Storrs, Connecticut, to chronicle the UConn women going for consecutive win No. 100.
ESPN's Kaylee Hartung, formerly of The Longhorn Network, filled in for Rowe Monday night at Allen Fieldhouse.
Asked after the game for her thoughts on the show she witnessed, Hartung said simply, "Wow!"
This and that...
KU now leads the all-time series with West Virginia 7-4, including a 5-0 mark in Allen Fieldhouse.... KU is now 12-1 in Allen Fieldhouse this season.... KU has now won 11 league games or more for 22 consecutive seasons, dating back to the 1994-95 season.... The Jayhawks now own a two-game lead over Baylor in the Big 12 race, with five games to play. Kansas will play at Baylor at noon on Saturday.
https://www.youtube.com/watch?v=pmZWZV8aM7E
https://www.youtube.com/watch?v=_FVEQ9py4p8
https://www.youtube.com/watch?v=d-g8gsLuvWY
https://www.youtube.com/watch?v=JfbtwCEoeko
— See what people were saying about the game during KUsports.com's live coverage.
---
More news and notes from Kansas vs. West Virginia
---