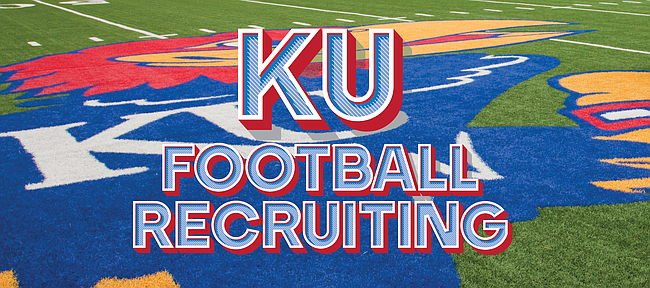 If David Beaty had gone to bed early Saturday night, after he and his Kansas football assistant coaches secured four verbal commitments for their 2018 recruiting class, the KU head coach could've slept well following what already had to be considered a wildly successful day for the downtrodden program.
Believe it or not, the Jayhawks' banner recruiting day was just getting started.
Less than an hour before the clock struck midnight, Beaty was back at it on Twitter, with two additional "#NeatDeal" posts, indicating prospects had chosen KU. And, as was the case three times earlier Saturday, those promises came from highly-touted Louisiana preps.
Six-foot-two receiver Ja'Marr Chase became not just the second receiver to commit on KU's junior day, when a long list of Class of 2018 recruits were in Lawrence to check out Memorial Stadium and Anderson Family Football Complex, but the second four-star receiver to do so. A 185-pound wideout at Rummel High, in Metairie, Louisiana, Chase also has offers from Arkansas, Florida, Ole Miss, TCU and several other programs, according to Rivals.
Chase simply tweeted out "I am a Jayhawk," Saturday night, a few hours after four-star receiver Devonta Jason, from New Orleans, made his announcement.
Three-star safety Aaron Brule capped a remarkable day for KU recruiting within an hour of his high school teammate Chase's declaration by following suit, making him the fifth prep from Kansas running back coach Tony Hull's home state of Louisiana to commit to Kansas that day.
A 6-foot, 165-pound safety for Rummel, Brule also has offers from Arizona, Arkansas, Tennessee and others.
Chase and Brule joined Jason, four-star cornerback Corione Harris and three-star running back Anthony Williams as new KU football commitments from Louisiana. Kansas seems to have a real connection with athletes from The Pelican State since Hull joined the staff just more than a year ago. A former high school head coach at New Orleans' Warren Easton, from 2007 to 2015, Hull helped land standout safety Mike Lee from his hometown. The KU assistant said a few months back he wasn't surprised by the success he had experienced in recruiting Louisiana.
"I would say I've been humbled by the support I've received from my family back at home. When I say my family, I mean high school coaches in Louisiana and the parents and the support staff and the administration at the high schools," Hull said long before anyone realized just how much he was accomplishing. "Everyone's been extremely supportive of the move I made and trying to help build that bridge back to Louisiana."
Clayton Tune, a 6-foot-2 quarterback from Texas, also committed to Kansas Saturday, giving the Jayhawks six members to kick off next year's class, on the weekend following 2017's National Signing Day.
KU's momentous weekend had the program sitting pretty in Rivals' preliminary Class of 2018 recruiting class rankings. While all verbal commitments are non-binding and each team's class as a whole won't become official for close to a year, on National Signing Day, Kansas currently has the seventh-best class in the nation — trailing just top-rated Penn State, Florida State, USC, Notre Dame, Clemson and Miami (Fla.).
Over the past few years, according to Rivals, KU's recruiting classes ranked 56th in 2017, 85th in 2016, 68th in 2015, 55th in 2014 and 45th in 2013.