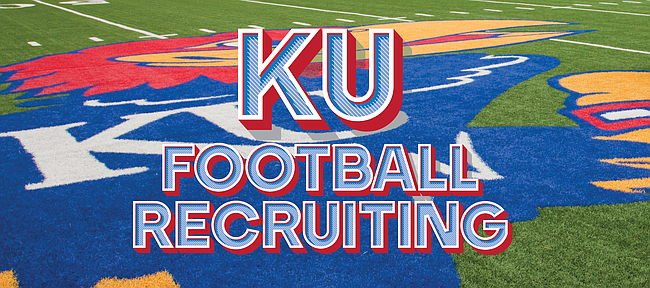 Kansas football coach David Beaty deemed this week's National Signing Day a success for the rebuilding program, but that didn't mean he and his staff could celebrate or relax.
In college football, recruiting never stops. As evidence, look no further than the Jayhawks' weekend plans, which revolve around welcoming to campus a slew of recruits from the Class of 2018.
Beaty and company don't yet have any commitments for next year's recruiting haul, but they'll keep chasing the Big 12 depth, dynamic players and "Kansas identity" that highlight their strategy this weekend as they show off KU's facilities to at least 12 prospects graded as three- or four-star recruits by Rivals.
As of Friday, Jon Kirby of Jayhawk Slant confirmed the names of 18 high school players scheduled to be in Lawrence for "junior day," and most of them are from Kansas, Louisiana and Missouri.
As KU's third-year head coach referenced earlier this week, he hopes landing Derby High receiver/tight end Kenyon Tabor in 2017 will lead more highly-ranked Sunflower State athletes to join the Jayhawks. For Beaty and his staff, Blue Valley North junior defensive lineman Miles Emery will be the first coveted in-state recruit to hear their recruiting pitch.
A 6-foot-5, 235-pound weak-side defensive end, Emery reportedly already has offers from both KU and Oklahoma.
At least seven preps from Louisiana will make their way to Kansas this weekend, a sign of the impact KU running backs coach Tony Hull, a New Orleans native, is making for the program. What's more, each prospect is ranked among the top 30 in their home state by Rivals, with three or four stars next to each of their names.
The four-star Pelican State targets visiting Anderson Football Complex and Memorial Stadium are: Rummel receiver Ja'Marr Chase, Berwick receiver Kenan Jones and Landry-Walker's Devonta Jason, a receiver, and Corione Harris, a cornerback. KU safety Mike Lee, who had a superb freshman season in 2016, also played at Landry-Walker.
Jason is Rivals' No. 6-ranked receiver in the nation. A 6-3, 187-pound talent, Jason already has offers from the likes of LSU, Alabama and Oklahoma, as well as Kansas and several other Big 12 and SEC programs.
His high school teammate Harris also has a long list of high-profile suitors. The 6-1, 170-pound Harris is ranked as the No. 8 corner in the Class of 2018 and already has offers from LSU, Auburn, Oklahoma, Texas A & M, KU and others.
A receiver listed at 6-2 and 185 pounds, Chase reportedly has offers from SEC programs Arkansas, Florida, Ole Miss and Tennessee, as well as the Big 12's KU, Iowa State and Texas Tech.
Jones, a 6-2, 205-pound receiver, has an offer from LSU.
Three-star Louisiana recruits checking out KU are Chase's Rummel teammate safety Aaron Brule, Warren Easton cornerback Damien Tate Jr., and Hahnville running back Anthony Williams. Hull was the head coach at Warren Easton from 2007 to 2015.
A 6-foot, 165-pound safety, Brule reportedly already has offers from KU, Tennessee, Arizona and other programs.
From Boutte, Louisiana, the 5-10, 165-pound running back Williams has KU, Louisiana Tech and other programs after him.
Listed as a 5-10, 172-pound corner, Tate has an offer from Jackson State.
KU football only had three Missouri natives on its roster this past season, but the Jayhawks have a handful of Show-Me-State visitors coming to town.
A four-star athlete from Lee's Summit West, Mario Goodrich headlines the Missouri prospects. Nebraska, Iowa, Missouri, KU, Kansas State and others already have offered the 6-2, 180-pound prospect, who has stood out as a defensive back in high school.
The three-star recruits coming in across the state line for junior day are William Chrisman defensive end Daniel Carson, Grandview defensive end Cartez Crook-Jones and Park Hill cornerback Devin Haney.
A 6-5, 270-pound defensive lineman, Carson already has offers from KU, Oklahoma, K-State, Missouri and others.
Another big defensive end, the 6-4, 230-pound Crook-Jones has offers from KU, K-State, Missouri and more.
A corner listed at 6-2, 165, Haney's reported offers aren't from Power Five schools, but Iowa, Missouri and Nebraska have shown interest, too.
Below are the names of the unranked prospects scheduled to be at KU, as reported by Jayhawk Slant, separated by their home states.
KANSAS
• OT Evan Clark, Derby (6-3, 265)
• OT Mac Copeland, Wichita Collegiate (6-5, 250)
• Athlete Dante Jackson, Lawrence (5-7, 150)
MISSOURI
• ILB Ayodele Adeoye, Ritenour (6-2, 220)
• RB Jaylen Ivey, Blue Springs (5-10, 188)
TEXAS
• QB Clayton Tune, Hebron (6-2, 195)