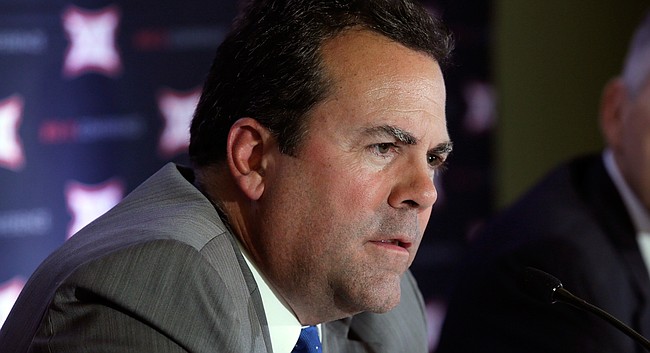 In recent weeks, members of the highly-ranked University of Kansas men's basketball team have made national headlines due to off-court incidents.
Nearly half the team has been interviewed in an ongoing KU police investigation of a rape reported at the team's on-campus apartment building. One player, now on diversion for possession of drug paraphernalia, had disputes with two women last semester that reached the district attorney's office, though he's not facing charges there. News outlets have reported other players' involvement in an internal university domestic violence investigation and an ongoing property damage investigation by Lawrence police.
In an interview with the Journal-World on Friday, KU's top athletics official said the KU basketball team is not out of control and that KU Athletics has policies in place and sticks to them.
"No," said KU Athletics Director Sheahon Zenger, emphasizing he was speaking generally and not to any particular allegations.
"Coach (Bill) Self has handled his team with great care over the years and continues to comply with all university and Kansas Athletics policies at all times," Zenger said.
Zenger repeatedly declined to answer specific questions about the rape investigation and other incidents of misconduct that have been reported in the news.
However, he said KU Athletics' "no comment" stance on the alleged incidents was required.
"There are legal and ethical reasons that we can't discuss investigations. If you're a reader, that leaves you with one side of a story," Zenger said.
"There are times when it would benefit us to get out there and maybe try and share some other information... We just have to weather the time period when maybe incomplete or inaccurate conversations are being had. That is in an effort to really protect the rights of everybody involved in an investigation."
He added it also was necessary to protect the investigative process itself. That goes for law enforcement as well as internal university misconduct investigations, such as those conducted by KU's Office of Institutional Opportunity and Access.
Per KU policy, Zenger said when information about an athlete violating student conduct rules comes to the attention of KU Athletics, it "goes straight up the hill" to Student Affairs, which handles such investigations for all students.
"It's really a one-way path," Zenger said. "That information goes up, and we get out of the way. We can't expedite anything, we can't delay anything, we just simply stand back and let the authorities do their jobs."
For law enforcement investigations involving student athletes, Zenger said KU Athletics also does not expect special treatment.
"As soon as there is an accusation, that is handed over to law enforcement, and we get out of the way," Zenger said.
Outside KU Athletics, Zenger said he understood the possibility that some community members would be tempted to give special treatment to athletes with "celebrity status."
He personally hopes that is not the case, Zenger said.
KU Athletics works hard to treat all its teams and student athletes equally, he said. The KU Athletics compliance office even tries to educate local business owners, for example, to avoid giving athletes special treatment, which in some cases could violate NCAA rules.
Regarding the reported rape of a 16-year-old girl reported at McCarthy Hall on Dec. 18, Zenger said KU Athletics was taking the report very seriously.
"Any crime of that magnitude … there aren't words for the gravity of such, and how seriously the institution and our department take that," he said.
Other than that, Zenger said he could not comment, including answering exactly when he learned of the report, what he was told and what action he took.
"This is where I'm not permitted to talk about any ongoing investigation of any kind," he said.
The rape case remains under investigation, Deputy Chief James Anguiano of KU police said Friday. Police have not released any information about a possible suspect.
Have a tip or story idea?
---
More stories