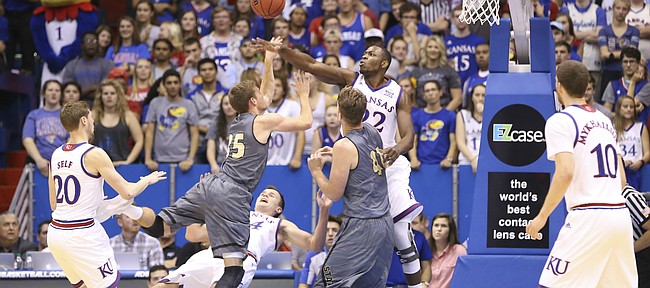 Less than six weeks ago, Kansas forwards Dwight Coleby and Mitch Lightfoot faced long odds of seeing much court time this season.
With Kansas employing a four-guard lineup more often and senior Landen Lucas, freshman Udoka Azubuike and sophomore Carlton Bragg Jr., all eating up minutes in KU's front court ahead of them, Coleby and Lightfoot spent most of their time battling to become the Jayhawks' ninth man, with the odd man out falling to 10th in the rotation.
But then the Kansas big men started dropping out of the rotation. First was Azubuike, losing the rest of his season to a wrist injury before the UNLV game Dec. 22. And then came Bragg's two separate run-ins with off-the-court issues.
That left the Jayhawks' depleted in the front court and turned Coleby and Lightfoot into much more important pieces of the puzzle.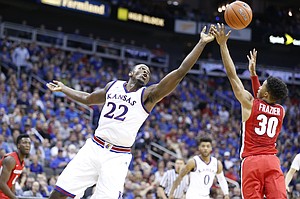 Neither player is going to be asked to play 40 minutes a game, but each will be asked to give something and both have shown a slow and steady march toward making that something carry at least a little value.
With Bragg suspended for the past two games — and set to miss a third game Saturday, 1 p.m. vs. Iowa State — the Jayhawks likely will look for continued production from Coleby and Lightfoot, who have combined to play 25 minutes in the past two Kansas victories.
"You know, it may be a situation that, in our mind, we're going to start with (one) and see how he does and, knowing you're going to play the other one, if the other one comes in and plays better, maybe you go back to him," said Kansas coach Bill Self, demonstrating that the plan to utilize either player was fluid. "That's kind of what we did the other night (vs. Kentucky). We gave Mitch a chance and gave Dwight a chance."
Coleby held his own against the Wildcats, using his 6-foot-9, 240-pound size and five fouls to help corral Kentucky big man Bam Adebayo. That performance led to Coleby being the first man off the bench in Wednesday's victory over Baylor, when he grabbed six rebounds in six minutes and blocked one shot, numbers that evened out his 0-of-3 shooting night and two turnovers.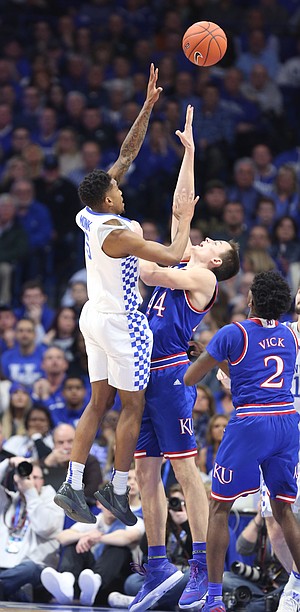 After playing just four minutes against the Wildcats, Lightfoot also contributed to the Jayhawks' 73-68 win over Baylor, tallying two points, one rebound and two blocks in just five minutes.
"Mitch's couple of blocks, I thought those were pretty athletic plays," Self said after the win.
And they might have been a small sign that Lightfoot is settling into his new role. He talked about it after Kentucky — KU's first game during the latest Bragg suspension — and explained what differed from what he had been used to previously.
"I'm adjusting to the 5 position because I learned the 4 position at the beginning of the year and now we need me in a little different spot," Lightfoot explained. "It's just being in different spots in different plays. Our defensive principles are pretty similar both ways, but I feel like I've gotta be better at getting plays down. It's unacceptable for me to not have that down right now."
As for who's been helping him the most during his on-the-fly transition, Lightfoot pointed to Lucas, a Jayhawk with plenty already on his shoulders.
"He does a great job with me," Lightfoot said. "I'm learning from him and he's been a great mentor. I've just gotta keep asking him questions. He knows everything. That man's been here, done that, and I just have to absorb everything I can."