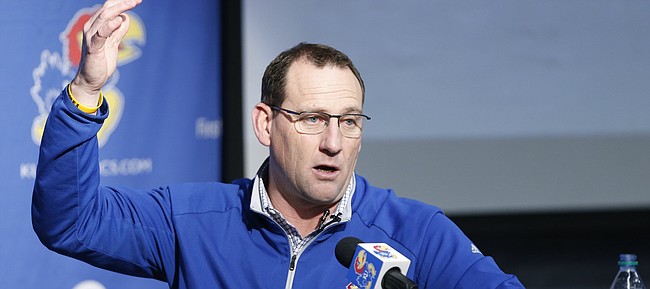 Some coaches liken National Signing Day to Christmas. For third-year Kansas football coach David Beaty, who saw a crop of new additions make their affiliation with the program official Wednesday, it felt more like a game day. And Beaty thought the Jayhawks emerged victorious.
"That's what it should feel like when you culminate a class like this," Beaty said.
The biggest KU wins in behind-the-scenes recruiting wars came at running back. Dom Williams, a high school rusher extraordinaire from McKinney, Texas, rated a four-star recruit by Rivals, stayed true to a commitment he made in September of 2015 — even after Arizona State, Baylor, Boise State, Utah and other programs attempted to snatch him away.
"He stuck with us," Beaty said of Williams, a 5-foot-10, 190-pound talent, "when people came knocking every day. Every day there was somebody big comin' to knock on his door. But he believed in it, he saw the vision, and he knows what's going on here. Not only that, he's dang good."
The Jayhawks also added an unexpected running back to their Class of 2017, who wasn't widely known as a possibility. Auburn and Louisville offered Itawamba Community College's Octavius Matthews, but the three-star back signed with KU, just like his juco teammate and quarterback at ICC, Peyton Bender, did in December.
"I don't know a lot of people knew about this guy until today," Beaty said of the 6-1, 200-pound Matthews, who will be a junior at KU. "And that's because we had to battle all the way until today to get him. I would consider this one of the biggest victories that we've had in this class because we had to battle some big-time places to get him all the way to the end."
Podcast episode
Kansas football coach David Beaty met with the media Wednesday to discuss the football team's 27-player 2017 recruiting class.
When Beaty and his staff began planning for this year's class, he said a primary goal was creating "true Big 12 depth," and the coach thinks the program is beginning to make up some ground in that category.
While Kansas chose not to reveal which players signed scholarships and which would join the program in walk-on capacities, the team announced 20 signing-day additions. That total comes to 21 when including three-star Louisiana prep receiver Travis Jordan. Although KU couldn't yet confirm his signing officially, the 6-1 prospect tweeted out his intentions with photos from his ceremony Wednesday afternoon.
Beaty did speak publicly for the first time on the majority of the other newest Jayhawks, and, as expected on a day associated with generating buzz, had high praise for them all.
Below is a full list of KU football additions, broken up by their Rivals' recruiting rankings, with a brief description from Beaty himself on the highest-rated prospects.
4 stars
• RB Dom Williams, Independence H.S., Texas (5-10, 190): Makes effortless cuts. Helped build this KU class. Terrific skills and acceleration.
3 stars
• CB Antonio Cole, Highland C.C., Kansas (6-0, 198): Always around the ball. Terrific in coverage.
• WR Quan Hampton, Texas H.S., Texas (5-8, 170): One of the most explosive guys the KU coaches have seen.
• WR/Athlete Travis Jordan, John Ehert H.S., Louisiana (6-1, 185): Didn't comment.
• RB Octavius Matthews, Itawamba C.C., Mississippi (6-1, 200): Can line up in slot or in back field, and can make plays as receiver or rusher.
• WR/TE Kenyon Tabor, Derby H.S., Kansas (6-4, 215): Should be a pillar for the program. Going to be a "big monster" target in passing game.
• CB Robert Topps III, Marist H.S., Illinois (6-2, 190): Gives KU length it needed in secondary and could play either corner or safety.
2 stars
• OL/DL Earl Bostick, Barnwell H.S., South Carolina (6-6, 270): Massive, and could end up playing on Sundays.
• LB Jay Dineen, Free State H.S., Kansas (6-2, 235): An energy guy, and a dude who "will knock you out."
• OL Joey Gilbertson, Wichita Northwest H.S., Kansas (6-4, 285): A "big dude" whose wrestling prowess stands out as a blocker. Kind of "nasty" lineman.
• K Liam Jones, Choctaw H.S., Oklahoma (5-10, 170): Could be pivotal for special teams with KU losing Matthew Wyman. Has leg speed to be "stud" kicker.
• LB Cooper Root, Wichita Collegiate H.S., Kansas (6-2, 200): Long, good-looking player who could line up inside or outside for KU.
• WR Takulve Williams, St. Augustine H.S., Louisiana (6-0, 185): Has top-end gear when he runs and made big plays on special teams in one of the most difficult leagues in the country.
Unrated
• K Cole Brungardt, Lawrence H.S., Kansas (6-5, 200)
• DL Sam Burt, Abilene H.S., Kansas (6-4, 240)
• S Nick Caudle, Maur Hill Prep-Mount Academy, Kansas (6-0, 185)
• WR Hunter Kaufman, Pratt H.S., Kansas (5-11, 170)
• TE/HB Moses Marshall IV, Erie C.C., New York (6-3, 230)
• FB/HB Quinton McQuillan, Lansing H.S., Kansas (6-2, 225)
• TE/HB Sam Schroeder, Wichita Trinity Academy, Kansas (6-0, 225)
• OL Jack Williams, Argyle H.S., Texas (6-3, 270)