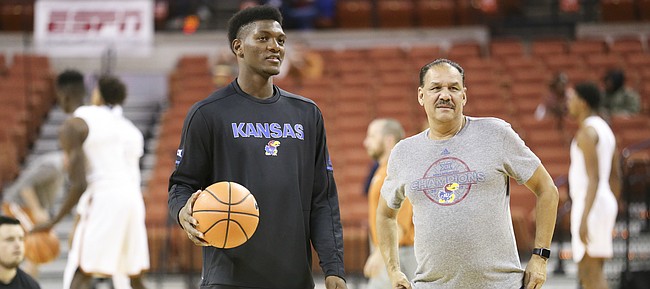 Silvio De Sousa's first official game as a Jayhawk featured a seat in the stands and a brand new, black warm-up suit.
Friday's Big 12 opener in Texas was not exactly the kind of debut De Sousa or the Jayhawks had hoped for when they learned just before Christmas that he would be eligible to join the team for the second semester. But rules are rules and even though De Sousa is with the team, he still must wait to be certified as an amateur athlete by the NCAA before competing in an actual game.
The NCAA is expected to review De Sousa's status for the first time as early as Tuesday, when the organization reopens following the holiday break and De Sousa likely will be able to suit up and play for the Jayhawks in the next week or so.
How much he will play when he does finally suit up depends on how quickly he picks up KU's system and how comfortable KU coach Bill Self is with putting him out there.
While the Jayhawks have had only a few practices to gauge what De Sousa can bring to the team, the early returns are full of praise.
"He's a good dude. I like him," sophomore forward Mitch Lightfoot said before Sunday's practice. "He's got personality and he's a pretty smart kid from what I can tell, good on the court, too. Athletic, good body, knows how to play. I'm excited to see what he brings to the table."
If there's one player on this 11th-ranked Kansas team who could be closer to lukewarm about the De Sousa addition, it would be Lightfoot, the current No. 2 big man in the rotation who figures to battle De Sousa for minutes in the months ahead.
But the sophomore from Gilbert, Arizona, who has logged 184 minutes in 13 games so far this season (14.2 per game) seemed genuinely excited about the added front court help when talking about De Sousa.
"Yeah, obviously I'm happy for the reinforcement," Lightfoot said. "I mean, it's kind of hard to play when you only have seven guys. We were getting it done, but now that we have Silvio coming in and Sam (Cunliffe) came... who knows what can happen in the future, but I'm excited to have our squad out there."
Lightfoot's selfless attitude came as no surprise to Self.
"Mitch'll handle whatever we throw at him," Self said. "He's a great kid and he loves this place and he wants to win more than he wants to play. Not everybody's like that."
Lightfoot has been that way from the day he officially became a Jayhawk, and that attitude is evident in everything he does and says. That's why he does not expect his role, approach or contribution to change much when De Sousa is in uniform.
"I kind of see it being the same thing," Lightfoot said. "(Playing) that next spot and helping other bigs know what we're doing."
Added Self: "I'm not sure Mitch's minutes will go down. I think it'll be the perimeter minutes that go down as much as anything."
The reason? First, because Self always has preferred playing with two big men and three guards instead of one big man — in this case Udoka Azubuike — and four guards. Second, because Self believes Lightfoot's attitude and unending hustle are among the best on the team.
"He's a quality person and I'm so glad we have him," Self said. "He frustrates me sometimes because I want him to do more in some ways, but it's not from lack of effort. It's more from lack of experience and opportunities."
De Sousa or no De Sousa, don't expect Lightfoot's opportunity for playing time to go down any time soon, even if it doesn't go up either.
"We can play small. Last year we played small a lot, but it was primarily with Josh (Jackson) in the game," Self said. "That's not small compared to this year's small. We're playing 40 minutes of small ball every game right now and it'd be nice if that could go to 20. With two additional players, I think it can."
Garrett gets the nod again
After making just his second start of the season during Friday night's road win over Texas, freshman guard Marcus Garrett is expected to hold on to that spot for Tuesday's Big 12 home opener vs. Texas Tech.
Self said he was pleased with the way both Garrett and Malik Newman, who came off the bench, handled the switch and added that he was hopeful the change could help boost KU's bench production.
"We've been getting no offense off the bench," Self said. "So if this is handled correctly and minds are right and it doesn't affect people (negatively), it could end up being kind of a bonus for us."
Newman, who also has been bothered by an injured left foot, sat out Sunday's practice. Big man Udoka Azubuike, who played through back pain against Texas, also sat out Sunday. Both are expected to play Tuesday night.
Locker room changes
KU's home base has a new look. The main locker room door just off the tunnel that leads to the Allen Fieldhouse floor now sits 30 feet to the southeast, just around the corner from where it was.
Construction has been ongoing and is close to being finished.
"Yeah, we're upgrading our locker room clubhouse," Self said. "Primarily, it's the lounge and the film room and that kind of stuff. The locker room will remain pretty much the same, but everything else will be upgraded and give us a lot of extra square footage."
Happy 2018
With a game two days later and temperatures outside less than ideal for venturing out, at least one Jayhawk said he was happy to keep things low key during this year's New Year's Eve celebrations.
"It's suppposed to be like negative-25 wind chill so my butt will be right in the room," Lightfoot said.
That's the kind of focus Self and the Jayhawks expect to have heading into the meat of their schedule. And it becomes especially important as Kansas tries to mix De Sousa and potentially Billy Preston into the mix in the coming weeks.
"I think we're going to be really good by the end," Self said. "but I don't think we're going to be close to what we can be until February, and that's with everybody getting favorable outcomes."
Bragg on the move again?
So maybe the Jayhawks won't face former Kansas forward Carlton Bragg Jr., during that return trip to Arizona State next season after all.
ESPN's Jeff Borzello and 247 Sports' Evan Daniels both Tweeted on Sunday evening that sources had indicated that Bragg was transferring from the ASU program.
The former McDonald's All-American who left KU last spring after two years with the Jayhawks joined the Sun Devils in the summer but spent very little time with the program, stepping away for personal reasons in late October.