Austin, Texas — Playing against him or watching him from the stands, it's always a good idea to keep at least one eye on Texas freshman big Mohamed Bamba, who brought his 7-foot-9 reach from Harlem, home of basketball magicians, to the Big 12 for one year of highly entertaining play. 
Bamba's  location on the court might deceive you into thinking he's not in the play, but the second you let your eyes drift away from him, you're liable to miss something special.
His magic isn't of the back-to-the basket, blindfolded, half-court shot or the pass-it-off-the-elbow variety. It was more along the lines of appear out of nowhere and stretch his Gumby-like arms as long as he needed to make the play.
One long stride, a longer reach, a quick jump and he's back in the play, his wrist, not just his fingertips, well above the square and he's blocking a shot that seemed out of his defensive domain when a Jayhawk went up for it.
Photo Gallery
Kansas basketball v. Texas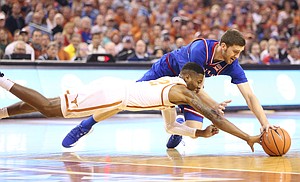 View a gallery of images from the Jayhawks' matchup against the Longhorns, Friday at Frank Erwin Center in Austin.
Bamba played his first Big 12 game Friday night at Frank Erwin Center against visiting Kansas and made it a memorable one for everyone in attendance.
Kansas won the game, 92-86, on the strength of 3-point shooting, and Bamba kept the Longhorns in it, flirting with a triple-double. Bamba dominated the paint in the first half and finished with 22 points, 15 rebounds and eight blocked shots.
"The guy could block the sun," Kansas coach Bill Self said.
Told of Self's comment, Bamba said, "I'm glad he felt that way. I guess that means my presence was felt, but it really wasn't enough."
Bamba made sure the Jayhawks didn't run away with an early lead. Every time it looked as if KU might have one of its blink-and-you-missed-it spurts, Bamba would block a shot, or turn an offensive rebound into two points. 
By halftime, Bamba amassed 16 points, eight rebounds and five blocked shots, keeping the Longhorns within 37-34. 
Bamba rejected three shots put up by Udoka Azubuike, including two hook shots. He also swatted shots from Lagerald Vick, Svi Mykhailiuk and Malik Newman.
Jumpers, hooks, drives, Bamba is an equal-opportunity shot-blocker.
"Man, he blocked everything, it seemed," Kansas senior guard Devonte' Graham said. "A couple of them might have been questionable (meaning goal-tending non-calls), but it was tough to get in the paint and make floaters or layups. We definitely weren't getting any layups with him in there."
In the second half, Azubuike did a better job of using his strength advantage by getting closer to Bamba when he scored on him.
"We told him shot-blockers like to have space and when you put a body on them it's hard for them to jump," Graham said.
Azubuike applied the lesson.
Bamba scored 11 early points, when Azubuike, nursing a sore back, started slowly, gingerly. But for much of the game, Azubuike played him to a near standstill in every area except shot-blocking. 
Bamba covers so much space that it enables Texas defenders to defend the 3-point line aggressively. The Longhorns came into the game with the nation's 10th-ranked 3-point-percentage defense (.282).
That didn't keep Kansas from catching fire from long distance in the second half (11 of 20, 17 of 35 for the game) and that's how the Jayhawks scored an impressive road victory.
Bamba's the reason Texas didn't get blown off its own floor.
https://www.youtube.com/watch?v=Vh21MoxJMWM
https://www.youtube.com/watch?v=e90Vjo8AIxg
---
More news and notes from Kansas vs. Texas
---