Austin, Texas — There were a bunch of reasons to wonder whether 11th-ranked Kansas could kick off its quest for a 14th consecutive Big 12 title on the right foot Friday night at Frank Erwin Center against Texas.
And the Jayhawks had 17 answers during a 92-86 victory that was not quite as close as the final score indicated.
Seventeen times, in 35 attempts, the Jayhawks drained shots from behind the 3-point arc, setting a school record for most 3-point makes in a Big 12 game and keeping the Longhorns from having much of a chance.
"They probably had one of the best 3-point exhibitions I've ever seen in my life," said Texas big man Mo Bamba, who was arguably the best player in the game. "They caught fire. … It definitely shifted the energy of the game."
Added UT guard Matt Coleman: "It makes it very difficult. It's like playing the (Golden State) Warriors, almost."
Photo Gallery
Kansas basketball v. Texas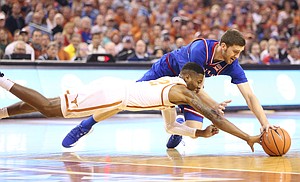 View a gallery of images from the Jayhawks' matchup against the Longhorns, Friday at Frank Erwin Center in Austin.
In many ways, emulating Steph Curry and the boys was exactly the plan for Kansas. KU coach Bill Self told his team as much before tip-off.
"I told 'em before the game we were going to shoot 35 threes," Self revealed after the game. "I told 'em 40 and then I said, 'Nah, that's too many. They'll shoot 40 if I tell 'em that.'"
Regardless of how many they shot, the fact that the Jayhawks made 48.6 percent of their shots from downtown — well above their season average of 41.5 percent — proved to be a huge factor in Friday's game. Had Kansas made just 13 or 14 3-pointers instead of 17, the outcome may have been different.
But neither that thought nor the idea of changing their strategy entered the minds of the Jayhawks (11-2 overall, 1-0 Big 12), who just kept shooting and shooting and shooting and shooting.
"Coach has been on us about passing up shots and just always staying aggressive, letting it fly and having confidence in ourselves and each other," said senior Devonte' Graham, who hit 6 of 12 from 3-point range.
Lagerald Vick hit a career high 5 of 8 and Svi Mykhailiuk, who cruised right past the red flames and into white-hot territory during one second-half stretch, also made five triples on 10 attempts. Malik Newman's 1 of 4 clip rounded out KU's 3-point shooting night.
And Udoka Azubuike's double-double of 13 points and 13 rebounds — six offensive — rounded out the Jayhawks' overall offense.
The fact that it came at all was a bit of a long shot given the fact that both Self and Azubuike said they were unsure whether he would even play a couple of hours before tip-off.
"I had to make a decision right before the game started," Azubuike said. "I had a tight, sore back and it was like really painful so it was like a last-minute decision for me. Coach asked me and I was like, 'Yeah, I'll go. I'll just play with pain.'"
Although the pain was there on Friday night, it was not as bad as it was a few days earlier, when Azubuike said he could not even sit down or bend much at the waist.
The fact that he delivered such a Herculean effort in such a crucial matchup — in his first-ever Big 12 Conference game, oh by the way — was enough to earn heavy praise from his coaches and teammates afterward.
As assistant coach Jerrance Howard rumbled toward the team bus on his way out of the arena, he could be heard screaming, "Yeah, Dok. Yeah Dok. Big fella grew up today."
On the other side of the coin, when UT coach Shaka Smart passed Azubuike in the hallway on his way to the podium, he made sure to offer similar praise.
"Nice game tonight, big fella," Smart said.
Both comments, along with the performance itself, was special for Azubuike.
"Playing through adversity, playing through pain and all that stuff, that really showed courage and that really meant a lot to me," he said. "I'm happy that we got the 'W' and my teammates encouraged me a lot and I'm excited."
As for how he got through it?
"When I got into the game, it was just heart," he said. "I was feeling really serious pain. Nobody thought I was going to play, but I just got in the game spirit and I just had to sacrifice. I don't know if it's long term, but I hope it's not. I hope it's just a temporary situation."
Although 17 games remain in what figures to be a grind of a Big 12 Conference race, the position the Jayhawks found themselves in on Friday night was anything but temporary.
Once again, for the 27th season in a row, the Jayhawks left their conference opener with a 1-0 record. And that places them, for now at least, in an awfully familiar spot — on top of the Big 12 standings.
Asked if the Big 12 was as good as he had ever seen it, Graham smiled and said, simply, "Oh definitely. No question about that. We've got a lot of teams ranked and on any given night any team can beat anybody."
Added Self of the road that lies ahead: "It's going to be a great league. I don't know if it's going to be fun, but it'll be fun to cover. There's not going to be very many teams (that) win here, and K-State and West Virginia both got off to great starts tonight, winning on the road. And then Texas Tech has an unbelievable performance at home and we have them next. This is going to be an up-and-down, ebbs and flows (race), can't get too high, can't get too low because there'll always be a tough one the next one."
Kansas returns to action at 8 p.m. Tuesday night vs. Texas Tech at Allen Fieldhouse.
https://www.youtube.com/watch?v=Vh21MoxJMWM
https://www.youtube.com/watch?v=e90Vjo8AIxg
---
More news and notes from Kansas vs. Texas
---