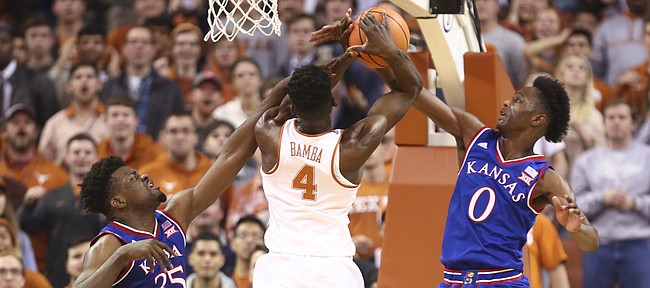 Austin, Texas — Marcus Garrett sure has impeccable timing.
After making the first start of his career in KU's home opener this season against Tennessee State on Nov. 10, Garrett picked up his second start on Friday night in the Jayhawks' Big 12 opener at Texas.
Garrett, who entered Friday's 92-86 Kansas victory averaging 20.7 minutes per game in 12 appearances, started in place of sophomore guard Malik Newman, who also came off the bench during Garrett's first start.
Self said after the victory that Newman currently has a bad foot, but added that Newman's ailment was not why Garrett earned the start.
"We just wanted to try something different to give us some energy," Self said. "And I thought Marcus actually played pretty well."
Photo Gallery
Kansas basketball v. Texas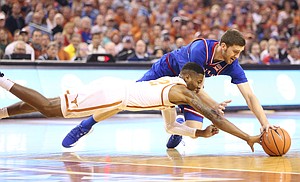 View a gallery of images from the Jayhawks' matchup against the Longhorns, Friday at Frank Erwin Center in Austin.
It might purely have been coincidence or maybe the start proved to be a boost of confidence for Garrett, who had struggled offensively during KU's most recent games but looked more comfortable on that end in this one.
Never was that more true than midway during the first half when he caught the ball behind the 3-point line and attacked the rim instead of looking jump shot. As he got to the rim, two bigger Longhorns elevated with him, but Garrett dipped under them and came out on the other side of the basket to finish the reverse layup that put Kansas up 22-17.
"I've been telling him he needs to do that a lot more," senior Devonte' Graham said. "Just being aggressive and not being so passive. You know, he's still trying to find himself and where he can attack and get off within the system, but he's been doing a great job being active defensively, guarding the four man and little things like that."
For the game, Garrett finished with two points, three rebounds, two assists, a block and two steals in 18 minutes.
Zone defense
They did not use it much, but enough to make a difference.
For a handful of possessions during Friday's victory, the Jayhawks employed a 2-3 zone that produced a mixed bag of results.
Kansas recorded steal on the first possession of its zone and forced a shot clock violation on the second possession.
"We just tried to use it the first half when we thought they had rhythm," Self said of the 2-3 zone.
Silvio in the house
Newcomer Silvio De Sousa, a second-semester freshman from IMG Academy in Florida, was with the team on Friday night but did not play.
De Sousa, who still must have his amateurism certified by the NCAA before being eligible to compete in a game, went through pregame shoot-around and warm-ups in a track suit, bobbing his head to the music on the loud speaker and rebounding for teammates.
"He couldn't sit on the bench," Self said. "How about that. He traveled but can't sit on the bench. But I think he was excited to kind of see kind of what it's like."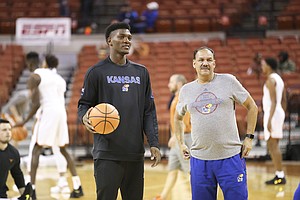 Self vs. Smart
Third-year UT coach Shaka Smart remained winless in five attempts against Kansas coach Bill Self since joining the Big 12 Conference. But Smart's all-time record against KU's head coach has the one win that probably means the most.
That came back in 2011 when Smart's VCU squad defeated Self's Jayhawks 71-61 in the Elite Eight in San Antonio.
As for the overall series between KU and UT, that dates back to 1938, it's been a mostly one-sided affair in favor of the Jayhawks.
That's not to say the two teams have not waged some memorable battles. Chief among them are four matchups in the Big 12 tournament title game, with KU winning all four by a combined 28 points.
This and that...
KU's Friday night victory in Austin pushed the Jayhawks winning streak in conference openers to 27 games, a stretch that dates back to the Big Eight days of the 1991-92 season... The Jayhawks now have won eight straight against the Longhorns and lead the all-time series, 30-8... Kansas is 10-6 all-time in games played in Austin and Bill Self is now 20-8 overall in head-to-head matchups with UT.
---
More news and notes from Kansas vs. Texas
---