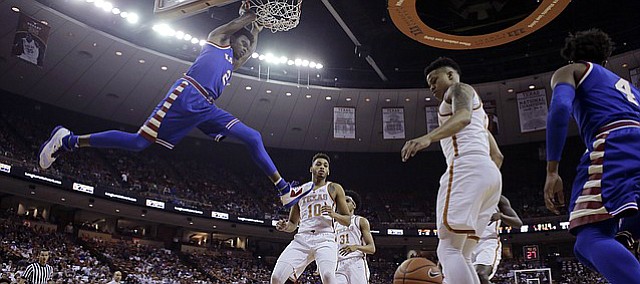 No. 11 Kansas Jayhawks (10-2) vs. Texas Longhorns (9-3)
Time: 8 p.m. | Location: Frank Erwin Center, Austin, Texas
TV: ESPN2 | Radio: IMG Jayhawk Radio Network
Log on to KUsports.com for our live game blog coverage and follow the KUsports.com staff on Twitter: @KUSports @mctait @TomKeeganLJW @bentonasmith @nightengalejr @chasenscott & @nickkrug
Keys for Kansas
1. Quality ball movement
The Longhorns, with their length and athleticism all over the floor, will be a tough defensive team for the Kansas offense to attack.
In addition to the big freshman in the middle intimidating anybody that even comes near the paint, the Longhorns are a scrappy defensive bunch that has limited opponents to just 60 points per game on 37.4 percent so far this season. That includes 50 points by Alabama, 59 by Michigan and 48 by Butler, as well as a pair of overtime losses to Gonzaga and Duke.
This should come as no surprise, given head coach Shaka Smart's reputation as a tenacious defensive coach. But it is a bit of a change for the better for the Longhorns, who continue to trend toward taking on the look of a Shaka Smart-coached team.
At times this season, Kansas, which ranks third nationally with 20 assists per game, has moved the ball better than any team in the country and as well as any Bill Self squad has moved it. That will be paramount in this one, as the KU guards who stand spread around the perimeter will have to be sharp and decisive, while not forgetting to go inside to Udoka Azubuike, if they want to break down the UT defense.
The KU offense is averaging 87.5 points per game, so something has to give in this one. And the KU ball movement likely will play a big role in determining whether it's the Texas defense or high-scoring Kansas offense that prevails.
2. 3-point shootout
While high-volume 3-point shooting nights might not be KU coach Bill Self's offense of choice, there's no doubt that this Kansas team is terrific at it.
As a group, the Jayhawks are shooting .415 from 3-point range so far this year, with three players shooting better than 44 percent individually.
While knocking down shots from distance has been and will be a factor in pretty much every game this season, it becomes magnified in this matchup, where Texas enters the game as one of the worst 3-point shooting teams in the conference.
In 12 games so far, the Longhorns have made just 71 of 255 attempts from 3-point range, good for a .278 percent clip and last in the Big 12 Conference by more than 5 percent.
The Texas lineup features just one player who is shooting better than 31 percent from 3-point range this season. That player, sophomore Andrew Jones, is currently sidelined with an injury and has missed the past four games.
Kansas enters the Friday night showdown averaging 10.8 3-point makes per game, with seniors Devonté Graham and Svi Mykhailiuk combining to hit 76 of the team's 129 3-point field goals so far this season, five more than the entire Texas team.
While those numbers seem to bode well for KU, the fact that the Longhorns' defense is limiting opponents to a Big 12-best 28.2 percent mark from 3-point range so far this season makes this one of the game's more intriguing matchups.
3. Get big
As was the case a season ago, Texas will be one of the biggest teams the Jayhawks face this season, with a couple of big bodies in the starting lineup and a couple more available off the bench.
That will make it extremely important for KU's guards to help Azubuike and undersized forward Mitch Lightfoot on the glass at both ends of the floor.
Despite their size, the Longhorns have shown the ability to get beat on the boards this year. Kansas actually enters the game with a better rebounding margin — +5.7 vs. +1.2 — and is the only Big 12 school that features two players in the Top 10 in the conference in scoring and rebounding averages, with Azubuike (15.5 points and 8 rebounds) and Lagerald Vick (17.1, 6.6) both doing work as scorers and rebounders.
"When you're playing against a team that can throw four or five bigs at you, and we're playing, right now, one big that's considered a real big (in Azubuike), this would be a hard matchup for us considering how small we are," Self said.
Mega Matchup
Udoka Azubuike vs. Mo Bamba
KU's sophomore center faces what appears to be his toughest challenge to date in 6-foot-11 Texas freshman Mo Bamba.
Bamba, in 11 games — all starts — is averaging a double-double at 11 points and 10 rebounds per game while leading the nation with 47 blocks.
Asked about the matchup between Azubuike and Bamba, Self said his 7-footer, who is averaging 16 and 8 through 12 games, has his work cut out for him.
"I think he's got good touch on the ball and he can change a game without even blocking a shot, because people are just thinking about him," Self said of Bamba. "Leads the country in blocked shots, probably altering another five or six a game. His length is just ridiculous. I've never seen anything like it. The guy's 6-11 and wingspan of 7-9, that's plus-10. I don't even know if there's anybody in the NBA who comes close to that."
While Bamba's presence figures to make things interesting for guys like Graham, Mykhailiuk and Vick, who may try to find their way to the rim off the bounce, Self said Azubuike holds the key to neutralizing the UT center, both in terms of attacking him with both hands in the paint and by making Bamba uncomfortable.
It's not the first time Azubuike has faced a player his height this season, but Self said previous matchups with 7-footers from Texas Southern and Syracuse were not on the same level as what Azubuike will see in this one.
"Those are nice college players, but this guy has a chance to be something pretty special," Self said. "(And) I think Dok needs to take it at him and try to force him to commit the foul."
Jayhawk Pulse
After a 10-2 nonconference slate in which the Jayhawks dropped back-to-back games in a five-day period in early December, Kansas has won three straight and gotten back on track.
This team, though still ranked high in the polls, has been anything but a well-oiled machine so far this season, with different issues — defense, depth, free throw shooting and more — making life harder on the Jayhawks than Self would like for it to be on any given night.
Self said this week and last that he was still hoping this team would find an identity and pinpoint areas in which it could excel on a consistent basis. Generally, Self prefers for his team's identity to come on the defensive end by making opponents play bad and dominating the interior.
"We're just not a grind-it-out team yet," Self said. "We're going to be a team, unfortunately, that needs to make shots to probably win big games. Our perimeter shooting should be enough to carry us some games."
Whether that actually is true or proves to be enough to extend its Big 12 title streak to 14 in a row, Kansas has reached the portion of its season where the margin for error diminishes and the intensity and pressure goes up with every possession.
Probable Starters
Kansas
G – Devonté Graham, 6-2, 185, Sr.
G – Malik Newman, 6-3, 190, Soph.
G – Svi Mykhailiuk, 6-8, 205, Sr.
G – Lagerald Vick, 6-5, 175, Jr.
C – Udoka Azubuike, 7-0, 280, Soph.
Texas
G – Matt Coleman, 6-2, 180, Fr.
G – Jacob Young, 6-2, 185, Soph.
G – Kerwin Roach Jr., 6-4, 180, Jr.
F – Dylan Osetkowski, 6-9, 245, Jr.
C – Mo Bamba, 6-11, 225, Fr.