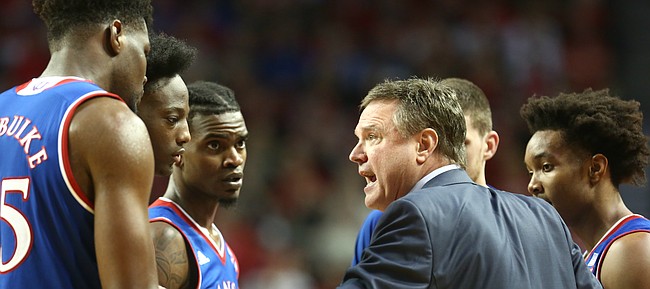 With Big 12 Conference play opening Friday night for the 11th-ranked Kansas men's basketball team in Austin, Texas, the time has come to consider the Jayhawks' chances of extending their record-tying streak of 13 consecutive regular season conference titles to 14 and standing all alone, ahead of the UCLA dynasty of yesteryear, by season's end.
Kansas coach Bill Self thinks he has a pretty good idea of what it will take to get there.
"I think 13-5 will get it free and clear," said Self of what record he believed would win the Big 12 title this season.
During their current and unprecedented streak, the Jayhawks, just once before in 2014-15, have finished conference play with five losses.
So the fact that Self believes his team could lose that many and still win it outright this season demonstrates clearly the kind of respect he has for this season's challengers, starting with the Longhorns at 8 p.m. Friday night.
"Is this a hard opening game? Hell yes it is," Self said. "But anybody we play would be a hard opening road game. Think about if you're playing at West Virginia or TCU or (Texas) Tech or Oklahoma. It doesn't make any difference. They'd all be hard games. This is tough, but every home game will be hard, too, and there's four other teams in our league that are playing unbelievably hard road games to start (conference play), as well."
Self's Kansas teams have put together this unbelievable streak of 13 in a row because they always have placed high value on the importance of winning the league. But instead of looking at things in terms of big picture and thinking about the finish line while standing in the starting blocks, Self always has done a masterful job of getting his players to focus on the current game and what's immediately in front of them, believing that that kind of acute focus will produce good results in the end.
That mindset will be even more important than ever this year, according to Self, who, somewhat surprisingly, admitted on Wednesday that he briefly addressed the streak with his team this week.
"When we lost the two in a row (to Washington and Arizona State earlier this month) it was like the sky is falling," Self said. "But everybody in the league is going to lose two in a row. That's going to happen. The league's too good. How you respond to those negative performances will probably be very important. And we've been kind of spoiled here. We haven't had to do that a ton. So there's going to be some disappointments and you just have to move on to the next one and not dwell on the last one."
As always, the easiest formula for Kansas finishing on top is to take care of business nine times at Allen Fieldhouse — where Self has lost just 11 times in 15 seasons — and to steal a handful of those nine road games.
But Self said he thought that finding a way to finish 5-4 or even 4-5 away from home would be a serious challenge during the next nine weeks.
"Us winning on the road will be unbelievably hard because we're going to be a really big game for everybody," Self said. "And we've shown that we have a chink in the armor, so to speak, so far. It's not like people are saying, 'Hey, we have to play perfect to beat 'em.' You don't have to play perfect to beat us, just like we don't have to play perfect to beat the other teams in the league. It's a well-balanced league."