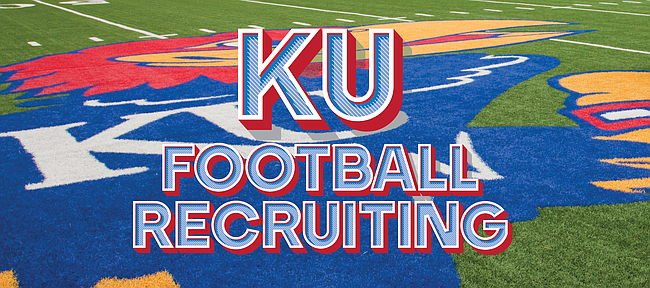 On the first Saturday of February, the sky appeared to be limit for the downtrodden Kansas football program's 2018 recruiting class.
Out of nowhere, receiver Devonta Jason and cornerback Corione Harris — Louisiana prospects considered four-star talents and among the top 100 players in the nation — caught the recruiting world off guard by announcing during a junior day visit to Lawrence they were committing to KU.
A little more than 10 months later, when those non-binding pledges could become official, the Jayhawks had to settle for one Landry-Walker High stud.
Harris, with Jason at his side for a ceremony Wednesday morning in New Orleans, remained loyal to his word, signing with Kansas.
Jason, who de-committed 10 days earlier, decided to sign with Mississippi State.
Many who follow college football recruiting assumed KU wouldn't actually sign either Jason or Harris, so the 6-foot-1 corner's December decision, for some, proved just as shocking as his initial commitment — especially considering Harris was deciding between Kansas and MSU, the program Jason ultimately joined.
Rivals recruiting analyst Woody Wommack described Harris, the No. 97 prospect in the entire Class of 2018, as a versatile athlete, because as a prep he played quarterback, receiver and defensive back, and projects him as a "shutdown" corner at the college level.
"His size and physicality are his best attributes and he has a competitive spirit that is contagious among his teammates," Wommack wrote. "Landing Harris marks a major recruiting victory and puts other programs on notice that the Jayhawks are going to be a presence in New Orleans going forward. The fact that Kansas stayed on Harris and was able to hold on to him despite pushes from other programs and the team's struggles on the field this season shows just how strong the bond between Harris and the Jayhawks coaches really was."
New Orleans native and KU running backs coach Tony Hull recruited Harris and Jason, as well as their former prep teammate at Landry-Walker, safety Mike Lee. A junior-to-be, Lee was in attendance Wednesday morning at his old high school to see Harris pick the Jayhawks.
According to Jon Kirby of Jayhawk Slant, Harris is the highest-rated corner to sign with Kansas since they began tracking the rankings, back in 1999.
— Check in at KUsports.com throughout the day for more on the Jayhawks' 2018 recruiting class.