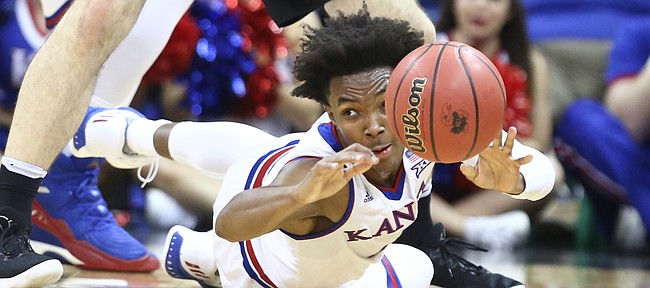 Sometimes in sports, coaches and players spend hours studying an opponent and preparing for game day only to see things go south when game time finally arrives.
And then there are moments like Wednesday night, when all you need is a phone call.
With just two days between his team's last game and Wednesday's stunning, 74-65 victory over second-ranked Kansas at Sprint Center in Kansas City, Mo., Washington basketball coach Mike Hopkins knew he had to act fast.
Photo Gallery
Kansas basketball v. Washington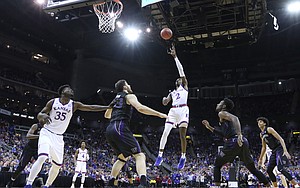 View a gallery of images from Wednesday night's matchup between the Jayhawks and Huskies at Sprint Center.
Luckily for Hopkins and the Huskies (7-2), the scouting report for Kansas was made much easier thanks to some favorable scheduling and a phone call between the UW coach and members of the Syracuse staff.
"For us, it was, here's the answers to the test," Hopkins said of his conversations with two Syracuse assistants. "If we can do this we can win."
Hopkins, who both played at Syracuse for Jim Boeheim and worked as an assistant coach under him for 20 years, is a bit of an expert on the 2-3 zone the Orange have made their signature throughout the years. Because of that, he was able to lock in on the parts of the zone that worked for Syracuse in last weekend's loss to KU in Miami and also tweak the parts that didn't. He did, of course, have a little help.
"I talked to Gerry McNamara and Allen Griffin on the Syracuse staff and we watched the game," Hopkins explained. "Obviously, I'm really familiar with the (Syracuse) program and you're watching the game and you just figure, this could be our best opportunity to win the game if we do this. And we were able to execute."
The focus of Hopkins' phone conversation with McNamara, another former Syracuse guard himself, was almost entirely on KU point guard Devonte' Graham, who had torched Syracuse for 35 points and was as hot as any player in the country coming into Wednesday night.
McNamara explained to Hopkins where the Orange went wrong and how they could have guarded Graham better and Hopkins listened to every last word of it.
"We just weren't going to let him beat us," Hopkins said. "(Against Syracuse), he made all the passes, he made all the plays and he's such a big time player that we were banking on forcing somebody else to do it."
Graham finished Wednesday's loss with just three points on 1-of-8 shooting and, after the loss, explained how Washington guarded him differently than Syracuse.
"They executed their game plan pretty well," Graham said. "Every time we threw the ball to the high post, both of the top guys just stayed with me basically, and the bottom wings fanned out and took away Malik (Newman) and Svi (Mykahiliuk) and just basically said let's make Lagerald (Vick) make every play. ...They did a good job of not letting us get comfortable and make shots."
Hopkins said Washington's experience so far this season against less talented teams who like to shoot from the outside as much or more than Kansas (7-1) positioned his squad to be ready for the Wednesday's challenge.
"It's really the cryptonite of the zone," Hopkins said of teams that can bomb away from the outside. "So we've had to adapt and adjust and figure that out, and the experience of those other games allowed these guys (to have some success against Kansas)."
---
More news and notes from Kansas vs. Washington
---