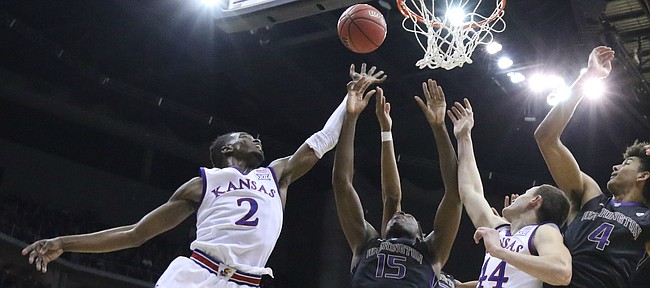 Kansas City, Mo. — For the second game in a row, Lagerald Vick in the high post proved to be a massive story line for the Kansas men's basketball team.
But this time, instead of the junior guard giving KU's opponent fits, it almost looked as if Washington wanted Vick to be there.
That was the recipe all night for the upset-minded Huskies, who led No. 2 Kansas for 28:53 and ran away at the end, 74-65, at Sprint Center.
"We're not going to lose by the 3-point shot," Washington coach Mike Hopkins said of his team's plan for Wednesday night. "And we just tried to make it a focus to take that away from the game. If (Vick) gets 50 points by scoring twos, then that's what we're going to go with. Trust me, it's hard seeing a guy (score like that) when he makes three or four in a row. But we just forced him to miss a couple."
Vick poured in a career-high 28 points, on 12-of-23 shooting, but was unable to carry a Kansas offense that shot 45 percent for the game, but just 25 percent (5-of-20) from 3-point range.
Photo Gallery
Kansas basketball v. Washington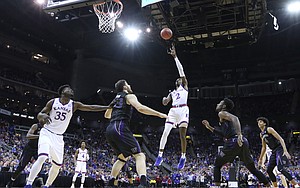 View a gallery of images from Wednesday night's matchup between the Jayhawks and Huskies at Sprint Center.
"They just took everybody away but Lagerald," KU coach Bill Self explained, "and they said, 'Lagerald, see if you can beat us.' Even though Lagerald got numbers, they weren't real numbers because they dared him to make a layup a lot of times.
"Obviously, that was a good strategy and we didn't attack it very well and that's my fault. They were quicker and bigger and tougher and they deserved what they got tonight. And we deserved exactly what we got."
The unlikely victory for a team that entered Wednesday as a 22-point underdog set off a raucous celebration that started in the tunnel back to the locker room, with water flying and bodies jumping, and was still going nearly 15 minutes after the final buzzer sounded.
Audible roars from the Washington locker room could be heard throughout the bowels of the venue that has not been kind to KU of late.
KU (7-1) now has dropped three of its last four games at Sprint Center, with last season's Sweet 16 spanking of Purdue and an exhibition win over Missouri earlier this season representing their only successes during that stretch.
"I can't blame this one on Sprint Center," Self said. "The blame goes on the shoulders of me and everybody else that was out there playing. We just weren't ready to play."
Vick's opportunity to shine presented itself on the very first possession of the game. After sprinting to the high post upon seeing his team win the opening tip, Vick caught a soft pass from Devonte' Graham near the free throw line, immediately attacked the rim and flipped a feathery lob to Udoka Azubuike, who rocked the rim for the first points of the game.
Most nights, that kind of play would set the tone for the rest of the way. Not Wednesday.
Although Vick kept working in that high post area, he was the only Jayhawk.
There was very little about Wednesday's loss that would be described by anyone as pretty.
Even Vick, who had by far the easiest time finding his offense, still struggled to knock down shots, finishing 12-of-23 from the floor, with most of the misses — and makes — coming mere feet away from the rim.
"I'm not going to leave out of here thinking anybody played well," Self said. "Nobody did. The way that they defended (Vick), anybody in that situation would've put up numbers because they forced him to shoot. I'm glad we had him in there but the numbers are fake because of how they defended him."
Trailing at the half for just the first time all season, Kansas was held 18 points under its first-half average for the season and entered the locker room down, 36-34.
Things did not get much better for Kansas when the two teams returned to the court. Washington opened the second half with a 14-8 run to build a lead of as many as eight points — 50-42 — before really pouring it on down the stretch.
KU tightened up with each passing minute and Washington's confidence seemed to grow throughout the second half. Even still, KU climbed to within one, at 53-52, with 9:45 to play. That inspired Hopkins to call a timeout and his team responded to that breather with a 7-0 run that pushed the UW lead back to eight.
From there, Washington's lead grew to as many as 14 and Kansas never again pulled closer than six.
The Huskies' final bite came when guard David Crisp drilled a 3-pointer as the shot-clock buzzer sounded to put UW up 73-59 with 2:12 remaining.
The reason the shot hurt KU so much — other than on the scoreboard — was because it came after a scrum under the bucket that looked like it might lead to a Kansas steal. Instead, after corralling the loose ball on his back, Washington big man Noah Dickerson fired a pass out to Crisp at the top of the key and Crisp stepped right into the 3-pointer.
Crisp was whistled for a technical foul for his prolonged celebration but Graham, who scored just three points on 1-of-8 shooting, carried his off night to the free throw line and missed both freebies.
"You could see this coming if you were a coach," Self said. "When we're energized and moving the ball and everybody's playing with energy, I think we're a real nice team. But when we're not, we get average real quick."
---
More news and notes from Kansas vs. Washington
---