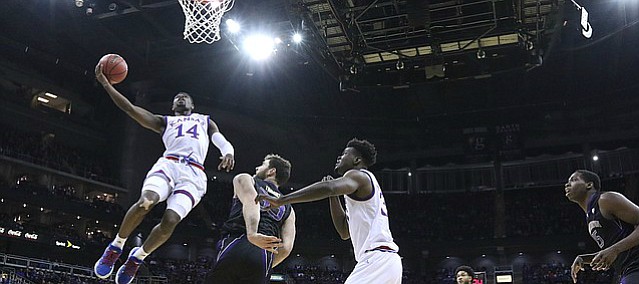 Kansas City, Mo. — The game drew inside the three-minute mark and Kansas trailed by double digits. Malik Newman had the ball alone in the left corner with all the time in the world to bury a 3-pointer and ignite the comeback.
Newman didn't cash in and his struggles continued. His shot was long by so much it missed the rim. By a lot.
Newman's two 3-pointers with 48.7 seconds left were far too little, way too late in a stunning 74-65 loss to Washington at Sprint Center on Wednesday night.
Newman's most memorable plays of the night were ones that didn't end well. In the first half, he kept the ball instead of passing it and took off on a drive in a way that suggested he was going to put up a shot regardless of what crossed his path. He did and was whistled for a charge. Good call by the ref? Maybe not, but that wasn't the point. Driving into trouble wasn't a good call on Newman's part.
Photo Gallery
Kansas basketball v. Washington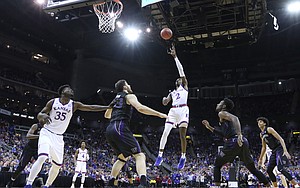 View a gallery of images from Wednesday night's matchup between the Jayhawks and Huskies at Sprint Center.
A second-half, head for-the-hoop-at-all-costs decision was met with a blocked shot.
Newman's not playing like a Bill Self pupil yet because Self basketball players play selfless basketball. They know that you make plays for others, others make plays for you, and in the end all that matters is that your team made more plays than the other team.
"He's struggling," Self said. "I think if he would just worry about things that have an impact on us winning or not, he'd be better off. His shot's fine, but just not making plays for others, not pitching ahead in transition. He missed Devonte' (Graham) a couple of times wide open to keep the ball and then ended up not getting anything out of it. He's better than what he's playing and we need to get more out of him."
Washington's wildly spread-out zone defense designed at making it difficult to shoot 3-pointers worked and Kansas made 5 of 20 from long distance.
Before Newman hit the two meaningless 3-pointers at the end, KU was 3 of 18 from beyond the arc.
First-year Washington coach Mike Hopkins, a longtime assistant for Syracuse's Jim Boeheim, watched video of Graham lighting up the Orange for 35 points in Miami over the weekend and formulated a game plan he expressed during the post-game press conference: "If somebody else beats us, great, but he's not going to."
Graham scored just three points and made 1 of 5 3-pointers.
That "somebody else" wasn't Udoka Azubuike because he limited himself to seven first-half minutes by picking up his second foul, "94 feet away from the basket," as Kansas coach Bill Self put it.
And it wasn't Newman. He had scored two points heading into the game's final minute.
"Right now, it's almost like they only have to guard two guys on the perimeter, Svi (Mykhailiuk) and Devonte', and Malik's a lot better than that," Self said.
---
More news and notes from Kansas vs. Washington
---