Wednesday, December 6, 2017
Kansas City, Mo. — Foul trouble on the Kansas basketball team's two big men once again forced Clay Young into action during the first half on Wednesday night at Sprint Center.
This time, however, Young's contribution did not lead to senior point guard Devonte' Graham calling him the game's MVP. Instead, it led to the first Kansas loss of the season, a 74-65 dud at the hands of visiting Washington.
As was the case in last weekend's Syracuse victory, Udoka Azubuike and Mitch Lightfoot both picked up two first-half fouls. Even Young had two first-half fouls, but Self, after the loss, was more upset about the mindset than the fouls themselves.
"The first foul was a weak foul and the second foul was at 94 feet," Self said of Azubuike's first two calls. "So he took himself out with the second foul. He can learn that two fouls at halftime is not foul trouble."
Photo Gallery
Kansas basketball v. Washington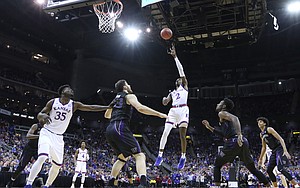 View a gallery of images from Wednesday night's matchup between the Jayhawks and Huskies at Sprint Center.
Instead, the entire second half was trouble for Kansas, which was outscored 38-31 in the final 20 minutes and never looked like the team they had been during the season's first seven games.
Asked after the game about KU fans leaving with a few minutes still showing on the clock, Self said he could hardly blame them.
"If I had paid to see that, I would've wanted something to drink over at Power & Light long before two minutes left," he said.
Graham's streak ends
After scoring a career-high 35 points in back-to-back KU victories over Toledo and Syracuse last week, senior point guard Graham saw the streak of serious point production snapped on Wednesday .
Graham, who played all 40 minutes, finished with just three points on 1-of-8 shooting, including a 1-of-5 clip from 3-point range.
While it remains to be seen what more he has in store for the rest of the 2017-18 season, Graham can rest easy knowing he already has made his mark on the KU record books. His back-to-back 35-point explosions marked the first time since 1970 that a KU player scored 35 points or more in consecutive games.
That player was former KU center and 14-year NBA player Dave Robisch, who scored 39 points against Iowa State and 38 points against Colorado during conference play in the 1969-1970 season.
Grandpa Self
While Wednesday night at Sprint Center marked just another stop in the ho-hum, 630-victory career of Kansas basketball coach Self, it also marked his first full day as a grandfather.
Self's daughter, Lauren Browning, gave birth on Tuesday to her first child and Self's first grandchild, a baby girl named Ella Jane Browning.
KU in K.C.
Wednesday night's loss in the building notwithstanding, the Jayhawks have enjoyed their time at Sprint Center and in Kansas City, Mo., in general throughout the years.
Wednesday's loss dropped KU to 221-83 all-time in games played in Kansas City.
The Jayhawks are now 35-9 all-time in games played at Sprint Center, which opened in 2007. That record includes winning the 2008, 2010, 2011, 2013 and 2016 Big 12 tournaments in the venue, as well as the 2012 and 2016 CBE Hall of Fame Classics.
During the game's first official timeout, KU presented Sprint Center general manager Brenda Tinnen with a framed No. 10 Kansas jersey to commemorate the 10-year anniversary of the venue.
The first game in program history was played in Kansas City and came nearly 119 years ago, when a James Naismith-led Kansas team fell to Kansas City YMCA, 16-5 on Feb. 3, 1899.
This and that...
Wednesday's loss dropped Kansas to 7-1, marking the fourth consecutive season KU has opened 7-1 in its first eight games... The Jayhawks' advantage in the all-time series with Washington now sits at 8-2 and KU fell to 2-1 this season in games played outside of Allen Fieldhouse... Kansas City Chiefs players Patrick Mahomes, Travis Kelce, Derrick Johnson and half a dozen others watched Wednesday's game courtside.
https://www.youtube.com/watch?v=ZWtiRQIAchk
https://www.youtube.com/watch?v=peWTh_L7nnw
https://www.youtube.com/watch?v=AU5p8ZyKduM
---
More news and notes from Kansas vs. Washington
---