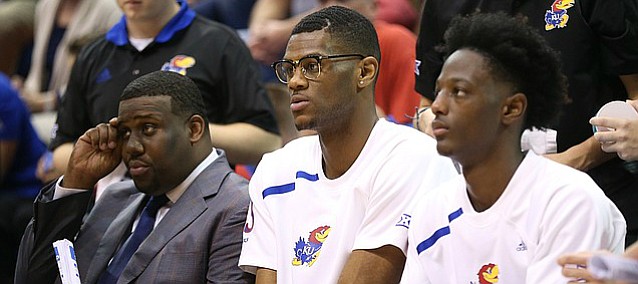 Miami — The news had no bearing on today's clash with Syracuse — 4:30 p.m. at American Airlines Arena on ESPN — but we now know for sure that KU freshman Billy Preston will not play against the Orange.
KU coach Bill Self released a statement Saturday revealing that Preston did not even make the trip to Miami with the second-ranked Jayhawks.
"Billy practiced with us Friday morning," the statement from Self began. "And after practice I learned that his mother was coming to (Lawrence) and would have little opportunity to spend time with Billy due to the Miami trip. I recommended Billy stay back so he and his mom could have some time together considering they have not seen each other in person in a while. Billy will be at our next practice and will be with the team when we go to Kansas City next week. Billy not making the trip has nothing to do with anything other than being able to spend some time with his mother."
The 6-10, 240-pound former McDonald's All-American, has yet to play this season and has been held out of the last five games while KU officials attempt to sort out a compliance issue involving a vehicle he was driving during a single-car, no-injury accident on Nov. 11.
Self has said that Preston, though frustrated, has maintained a positive attitude throughout the ordeal and continued to be a good teammate, working hard in practice and supporting the program from the bench during games.
At his regularly scheduled news conference on Thursday afternoon, Self said he remained "hopeful" that the situation would get resolved and Preston would return to the team at some point.
No official timeline of any kind has been given for a decision on Preston's status, but Self said on Thursday that even though no "movement" had been made toward a resolution, there had been action taken toward trying to achieve a favorable outcome for Preston and the Jayhawks.
Self has said repeatedly throughout the process that Preston has not been ruled ineligible and that the decision to hold him out of competition has been made by KU.
Preston missed KU's season opener on Nov. 10 after missing curfew and class leading up to the game.