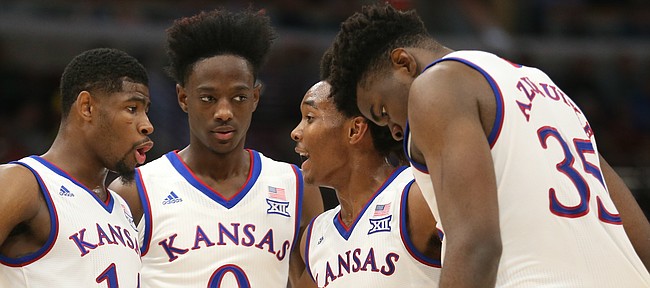 No. 2 Kansas Jayhawks (6-0) vs. Syracuse Orange (6-0)
Time: 4:30 p.m. | Location: American Airlines Arena, Miami
TV: ESPN | Radio: IMG Jayhawk Radio Network
Log on to KUsports.com for our live game blog coverage and follow the KUsports.com staff on Twitter: @KUSports @mctait @TomKeeganLJW @bentonasmith @nightengalejr @chasenscott & @nickkrug
Keys for Kansas
1. Attack the zone with purpose
KU sophomore Mitch Lightfoot offered a simple philosophy for the mindset the Jayhawks must have against Syracuse's vaunted 2-3 zone defense, which has given teams fits for decades.
"Got to get a guy in the open spaces," Lightfoot said. "And get the ball moving."
While that skill, along with the ability to knock down shots all over the floor, figures to be beneficial for Kansas in this one, those advantages won't mean as much if the Jayhawks aren't able to stay disciplined in their half-court sets.
That likely will put a heavy load on senior point guard Devonte' Graham, who has been a masterful passer so far this season, to attack the zone off the dribble and also set the tone for proper ball movement by inspiring teammates to continue doing what has worked so well so far this season.
This also could be a big game for Lagerald Vick, who should spend a lot of time in the high post area against the zone and will have to be aggressive, decisive and clean when he gets the ball.
2. Emphasis on individual defense
While man-to-man defense is a staple of what the Jayhawks want to do, year in and year out, night in and night out, tough man defense could play a huge role in this one.
Not just because it will give the Jayhawks opportunities to get out in transition, therein not letting Syracuse set up its zone, but also because preventing Orange guards from getting by them on the perimeter will significantly aid KU's defense in the paint.
"They do a great job of forcing help," said KU coach Bill Self. "Which creates rotation rebounding, which allows their bigs and long wings to take a run at the basket. A lot of times it's a free run."
Tyus Battle and Frank Howard, two Syracuse players who Self said essentially were both point guards, are the most important Orange ball handlers to contain, which means Graham could be asked to play another big role defensively.
3. Maintain the balance
While anyone in crimson and blue would take another 35-point night from any Jayhawk, like the one they got from Graham on Tuesday, this matchup is tailor-made for the balanced scoring the Jayhawks have enjoyed so far this season, and, really, throughout the Self era.
With four players averaging 15.8 points per game or better, and a fifth right behind them at 13.5, KU's ability to spread out its offense, get shots from almost anywhere on the floor and put pressure on opposing defense with both jump shooters and drivers serves as a great recipe for attacking Syracuse.
"We've got five guys that I think are all easily capable of getting 20 any night," Self said. "I would say there are a few teams in America that have that many guys that can put up pretty big numbers. I do like balance. But if we had a guy that was averaging 25 a game, I'd like that, too. Certainly I think balance is hard to guard."
Mega Matchup
7-foot Showdown – Udoka Azubuike vs. Paschal Chukwu
For already the second time this season, KU's sophomore center will get an opportunity to stand face to face with an opposing big man.
As was the case with Trayvon Reed (7-foot-2, 240), when the Jayhawks faced Texas Southern a couple of weeks ago, Chukwu stands two inches taller than the KU center but is giving up more in terms of actual size.
At 7-2, 228, Chukwu, who actually made an unofficial visit to KU before choosing Syracuse, brings the kind of frame and skill set that could put pressure on Azubuike (7-0, 280) away from the basket while also giving him trouble down low in the battle for rebounds and easy buckets.
"Contrasting styles," Self said when asked about the matchup. "He's bigger than Dok, height-wise. Dok is obviously a lot thicker than he is. You're probably going to have length, explosiveness in a lot of ways versus girth. Dok is going to have to do a good job of trying to catch the ball close to the basket, where maybe (Chukwu's) length isn't as much of a factor."
In that showdown with Reed, Azubuike scored 20 points and grabbed nine rebounds, with one block in 27 minutes. Reed, in 33 minutes, tallied 19 points, 14 rebounds and four blocks.
"The guy from Texas Southern got the best of us, I thought," Self said.
Jayhawk Pulse
After a stretch of easy home victories, the Jayhawks are poised for what could be their toughest test of the young season.
While facing (and defeating) Kentucky in the Champions Classic certainly rivals this matchup with the Orange, the fact that Syracuse is unbeaten and plays a unique style of defense makes this one at least as tough and intriguing.
The KU players this week seemed eager to take their show on the road again to give the younger players another taste of what it takes to prepare and play away from home. It obviously will not be a true road test, and American Airlines Arena figures to have more than its share of KU fans, but the process is the same and it will be good for this team to experience another "business trip."
This game marks what appears to be the beginning of a significant step up in competition, with KU — an 11.5-point favorite over Syracuse — slated to face major-conference foes in four consecutive games and five of the next six before opening Big 12 Conference play at the end of the month.
Probable Starters
No. 2 Kansas
G – Devonte' Graham, 6-2, 185, Sr.
G – Malik Newman, 6-3, 190, Soph.
G – Svi Mykhailiuk, 6-8, 205, Sr.
G – Lagerald Vick, 6-5, 175, Jr.
C – Udoka Azubuike, 7-0, 280, Soph.
Syracuse
G – Tyus Battle, 6-6, 205, Soph.
G – Frank Howard, 6-5, 205, Jr.
F – Oshae Brissett, 6-8, 210, Fr.
F – Bourama Sidibe, 6-10, 205, Fr.
C – Paschal Chukwu, 7-2, 228, Jr.