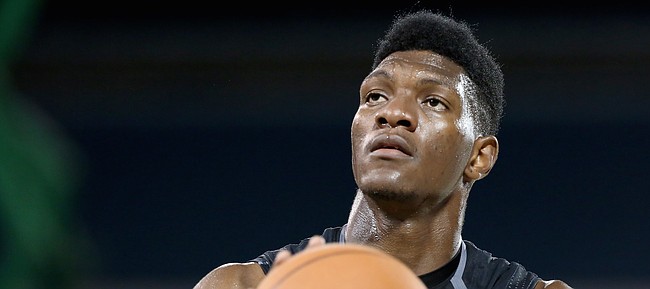 His visit came out of nowhere and the whole process of recruiting him was shorter than most. But that was all of the time Class of 2018, five-star big man Silvio De Sousa needed to discover that Kansas was the right place for him.
Wednesday morning, during a layover in Germany on his way back home to Angola, the 6-foot-9, 244-pound De Sousa told the Journal-World that he had orally committed to Kansas last Sunday, at the end of his official visit to Lawrence last weekend.
By Monday night, De Sousa was on a plane bound for his home country so he could play for Angola in the upcoming FIBA Afrobasket 2017, Sept. 8-16 in Senegal and Tunisia.
"When I was there in Kansas, I couldn't even express myself or how I was feeling," De Sousa told the Journal-World. "When you love something, there's no way you will describe it. I knew about their basketball but I didn't know about the campus, the coaches and stuff like that. I felt like that was the place I wanted to be, the culture and the coaches were so great around me. That's one of the things I've been looking for and I found that in them."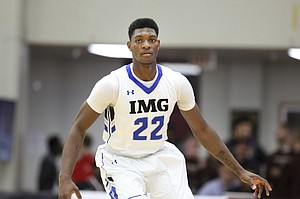 De Sousa said he was so comfortable with the entire KU program, from the players and coaches to their wives and the program's support staff, that he knew before he left that he did not need to see any other programs.
"Once I find what I want, what I've been looking for, I wouldn't like to take any more visits," he said. "Kansas is my final destination."
Ranked No. 18 nationally by Rivals.com, and No. 30 overall by the 247 Sports composite rankings, De Sousa chose Kansas over heavy interest from Florida, Illinois, Kentucky, Louisville, Maryland, North Carolina, Syracuse and others.
The Angola native who has been living with a guardian in Florida for nearly four years said his first contact with Kansas came during his freshman year in Florida. But the process really picked up this summer, according to De Sousa, who has drawn comparisons to former Kentucky forward Julius Randle and former Kansas standout Thomas Robinson.
As is the case with most of the top talent in the country, 247 Sports reported that the Jayhawks offered a scholarship to De Sousa this Spring. But the belief from most recruiting services was that Maryland was the team to beat. That changed over the weekend, when De Sousa liked what he saw from Kansas so much that he decided to end the process and commit.
"It was the family atmosphere," De Sousa's guardian, Fenny Falmagne, told the Journal-World via telephone from his home in Florida. "Any time you go to a place where you feel like you've known the people for years and years, it makes a difference. I was joking with (KU) Coach (Bill) Self like he was a guy I had known for 10 years and it was my first time meeting him. So that speaks volumes."
Falmagne, 31, said the decision to visit KU last weekend took on the feel of a family deciding on a whim to hop in the car to visit old friends.
"Coach Self said, 'When do you want to do it,'" Falmagne recalled. "And I was like, 'We're not doing anything this weekend.' And he said, 'OK, let's do it this weekend.' That's really how it went. The whole visit set up was just about being comfortable with each other. And he committed because we wanted to get this out of the way so he can focus on his academics and his national team and all that kind of stuff. But Kansas is where he wants to go and we're not taking any more visits."
As for the visit to Kansas, Falmagne said the strong family vibe that both he and De Sousa felt from the entire KU roster, both on the phone prior to the visit and in person last weekend, inspired De Sousa to end his recruitment.
"I was just highly impressed and I've talked to a bunch of coaches," said Falmagne, originally from the Republic of the Congo, who added that he has worked as a guardian with around 16 college basketball players during the past several years. "They were not trying to put on a show, we didn't see fancy stuff or gold plates or anything like that. Everything was simple and they really focused on Silvio and who he was and what he needs. That's what made the difference. Silvio saw that and said, 'This feels like home. I want this.'"
Added De Sousa, who will turn 19 on Oct. 7: "I wanted a place I will be happy and I feel like Kansas is that place."