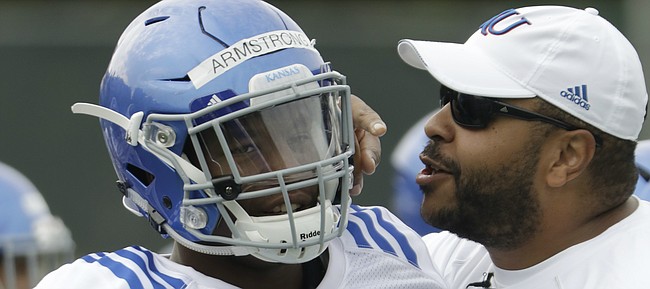 As the head football coach at Kansas, David Beaty has his hands full with a myriad of responsibilities, so he doesn't mind letting his players have a voice in at least one critical decision.
The Jayhawks, not the coach, decide on team captains, via private votes.
"I just believe in that peer leadership. I believe in that peer selection. They know, now. I mean, those guys know who the real leaders are," Beaty said.
As elected by their teammates, the KU captains for the 2017 season are juniors defensive end Dorance Armstrong Jr., defensive tackle Daniel Wise, linebacker Joe Dineen, receiver Jeremiah Booker and senior running back and would-be special teams contributor Denzell Evans, who suffered a season-ending knee injury during preseason camp.
"We talk to them all the time about what this means, what this represents for you," Beaty said of the coaches' message to the team prior to ballots being cast. "Be careful who you're choosing. It's not a popularity contest. Make sure you understand the representation there is so important for us."
Although the news couldn't have come as much of a surprise to the Big 12's Preseason Defensive Player of the Year, Armstrong is attacking his new status seriously, as he does with all aspects of the game.
"It's an honor to be a captain for this team. It'll help me build more character for myself, become a better leader and hopefully it'll pass down for the guys under me," Armstrong said.
A newcomer to the program this season, sophomore cornerback Hasan Defense, a projected starter for Saturday's season-opener versus Southeast Missouri State (6 p.m., Memorial Stadium), explained why the Jayhawks elected Armstrong, Wise, Dineen, Booker and Evans.
Podcast episode
On the debut episode of the KU Sports Hour, the sports staff previews the upcoming football season and gives their predictions for 2017. Topics include the new-look KU offense (2:20-21:50), a KU football mailbag (21:50-40:20) and 35 KU football prop bets (40:20-close). Music credit: Laser Groove Kevin MacLeod (incompetech.com) Licensed ...
"First of all, it always talks about your play on the field," Defense said of attaining captainship. "You want to have a leader who is out there playing, putting in the work, just as hard as you. So with all of those guys, their great workers, hard workers. They see you down, they're not going to let you be down by yourself. They're either going to get down with you or bring you up with them."
There's even more to it, though, according to Beaty. The third-year KU coach said what makes the captains unique is not only their work ethic and willingness to do more on the field, but their commitment to everything else involved with being a Division I athlete.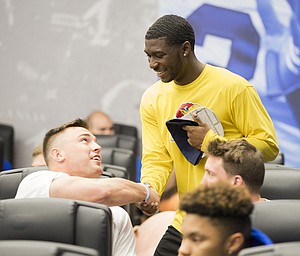 "Absolutely zero times have those guys been on a list. Zero. They never have a hold on their account. They are never late signing up for classes. They're never late picking up their books. They're never late to anything. They're always there," Beaty said. "They're great representatives of what it means to do things right."
KU's coach said Armstrong, Wise, Dineen, Booker and Evans set such good examples that "98 percent" of their teammates fall in line with their approach. Beaty thinks the leaders have established they will "do the right thing no matter what."
Defense put it another way: "Those guys are smart. They're not one of those guys you'd have to worry about."
While Defense said no one on the roaster is a bad person, sometimes bad decisions are made. Such instances never involve the newly-elected captains, he added.
"Those are some of the guys who they're always on the right track, no matter what. You never can really see them doing the wrong thing," Defense said. "That's the kind of guys we want to represent all of us."