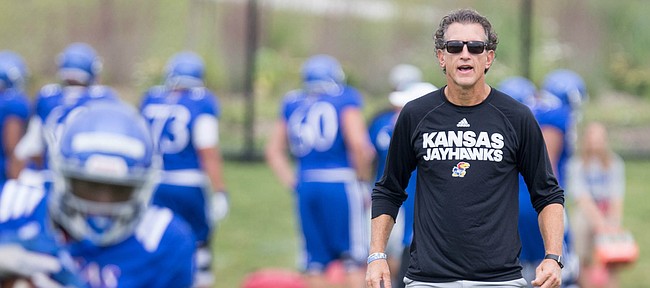 Although the Kansas football team is nearing the completion of its fourth week of preseason practices, the Jayhawks' first-year offensive coordinator, Doug Meacham, didn't want to start any specific game-planning for the season-opener versus Southeast Missouri State until this stage.
In the past, Meacham, a former co-coordinator at TCU and Houston, attempted two full weeks of preparing for his team's first opponent.
"And you end up doing two things. One, you put too much stuff in. And, two, you start second-guessing the stuff you have in," Meacham explained. "And then before you know it it's paralysis through analysis — and it sucks."
The man charged with invigorating KU's Air Raid offense revealed he may spend a couple extra days in game-week mode at the end of this week, but he generally frowns upon extending it.
"I try to keep a routine. I don't really like to do beyond, I think a lot of people get kind of antsy with it," Meacham said. "I think, normally, in a normal week you start on Sunday night, you play on the next Saturday. I like to try and do that."
The only reason he doesn't mind breaking his routine nine to 10 days out from a season debut, he added, is because the Jayhawks have run such a high volume of plays. Meacham said honing it in a couple days early never hurts.
O-line's ability soon will be revealed
Third-year KU head coach David Beaty doesn't hide his belief that the team's offensive line should be much improved this fall.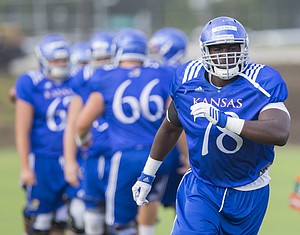 With left tackle Hakeem Adeniji and center Mesa Ribordy — both sophomore returning starters — a year older, stronger and more experienced, the group as a whole, Beaty thinks, has progressed nicely, with the help of senior guard Jayson Rhodes, juniors Charles Baldwin and Larry Hughes, sophomores Antione Frazier, Malik Clark, Clyde McCauley III and Hunter Saulsbury, redshirt freshman Chris Hughes and others.
But Beaty admits he won't actually know if he's right until the season begins, because August scrimmages aren't exactly accurate simulations.
"In a game you can tell whether that quarterback really was sacked or if he wasn't," Beaty said. "So that really is the tell tale. We're not letting those guys hit the quarterback, so we can't truly tell if he was going to get out of it."
Return-game possibilities
While Beaty indicated earlier this month junior receiver Steven Sims Jr. looked like KU's best option at punt returner, he also said he trusts a couple of newcomers in that role.
True freshman Quan Hampton, Beaty said, brings a dynamic return ability, but also catches punts smoothly.
The head coach said junior receiver Kerr Johnson Jr., a transfer from Santa Rosa Junior College (Calif.), has done a solid job in that area during preseason practices, too.
While it may not come this fall, Beaty also predicted true freshman receiver Takulve "T.K." Williams, from New Orleans, will develop into a "nice" returner.
For kickoff returns, Beaty said there are "a bunch" of players in the mix.
Sims is a possibility there, as are true freshman running back Dom Williams, junior receiver Ryan Schadler, Hampton and sophomore running back Khalil Herbert. At one practice a couple weeks back, Takulve Williams, a 6-foot newcomer, showed off his moves during a kickoff period, juking past tacklers to create running lanes.
Bowen trusts defense learning
While there have been times this month when defensive coordinator Clint Bowen disapproved of his group's overall focus and intensity, he said that didn't make him nervous.
Bowen expects talents such as Dorance Armstrong Jr., Daniel Wise and Joe Dineen will help him have their defensive teammates ready for the Sept. 2 opener.
"If you take a false step in the Big 12, there's going to be another grown man to embarrass you for it. And guys, they learn that eventually," Bowen said, "and that's part of camp and that's part of what we're doing right now is emphasizing that and let them know the margin for error in the Big 12's very small, and guys have to get that. It's always part of the growing process."