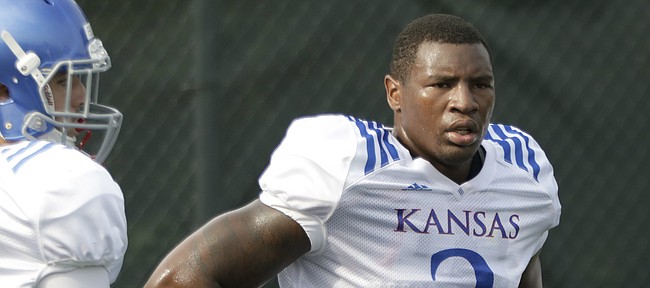 There was a time in Dorance Armstrong Jr.'s athletic career when he did much more than devour quarterbacks and stuff running backs behind the line of scrimmage.
Growing up in Houston, Armstrong spent much of his youth on the baseball diamond, which allowed him to feel right at home Friday night at Kauffman Stadium, where the Kansas defensive end threw out the ceremonial first pitch as part of the Royals' "KU Night."
The 6-foot-4 lineman wasn't about to embarrass himself like some infamous guest hurlers through the years. Armstrong fired his attempt high, for sure, but his nimble catcher and fellow D-lineman Daniel Wise popped up to snag it.
Earlier in the day Armstrong said his obvious goal was to throw a strike, but considering he started playing baseball at the age of 6 and stuck with it until his sophomore year at North Shore High, he wasn't overly concerned about how he would look in the pre-game spotlight.
"Pitcher, catcher, outfielder," KU's preseason Big 12 Defensive Player of the Year said of his various positions as a youngster. "Anything I could I tried to play it."
The wildly athletic Armstrong, though, actually preferred a spot behind home plate more than rearing back to fire a fastball or sprinting down a line drive.
Specifically, the defensive end said if a pitch ended up behind him in his baseball days, it seemed like he was always the catcher who a runner on third base would test. But Armstrong had the speed to retrieve the ball and race his challenger back to home.
"And it just never worked out," Armstrong recalled of his opponents' chances. "I think that's where a lot of the fun came from."
No wonder he enjoyed it — such showdowns at the plate were really the only aspect of the game that felt like football to him.
"That's the most physical part of it," Armstrong said, with a grin, "the catcher and the runner home."