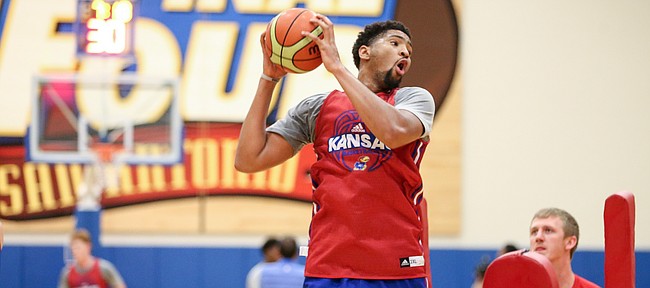 When Kansas coach Bill Self announced, one day before his team's departure for Italy, that transfer forward Dedric Lawson had been temporarily suspended and would not make the trip, KU fans from coast to coast began to wonder if adding the former Memphis standout had been worth it.
Wednesday, on an appearance with Seth Greenberg on ESPN radio, Self was asked about Lawson's suspension and how it was received.
"To me, that wasn't that hard of a decision," said Self after again explaining that how Lawson handled himself during an altercation at practice was what led to the suspension. "And he was 100 percent OK with it. He knew."
The decision to leave Lawson home but bring his brother, K.J. Lawson, on the trip could have created some drama. But Self said both players handled the situation well, with K.J. heading over to soak up some culture and bonus playing time and Dedric staying home to refocus his attitude.
"It was fine," Self said. "I love those guys. They've been great since they've been here."
As for whether the decision to discipline Dedric had any lasting affects, Self said that remained to be seen but added that it did not cause him to think any differently about the former Memphis forward who averaged 20 points and 10 rebounds for the Tigers last season.
"It was obviously temporary," Self said. "It was a short-term deal and when he gets back (from visiting home before school begins) we'll be ready to go. In no way did that take away from what we think of him or anything like that. But just like when your own son or daughter (messes up), it doesn't mean you love them less just because you ground them. And he was 100 percent on board with it. He was very good about it."