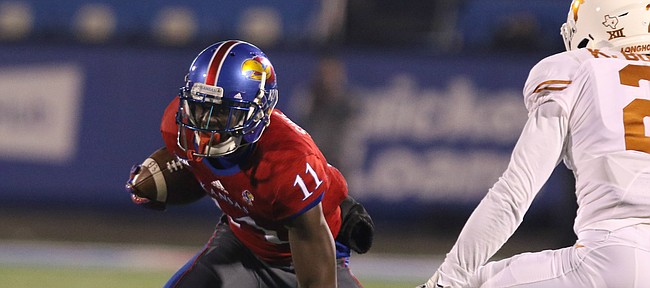 Among all the words offensive coordinator Doug Meacham has used since accepting his position at Kansas to describe what type of weapon junior receiver Steven Sims Jr. can become in his Air Raid system, three stand tall above the rest.
Makes. You. Miss.
In the Jayhawks' 2016 season, when scoring drives and production were scarce for the offense, Sims' talent was unequaled. As a sophomore, the Houston native led the team with 72 receptions, 859 yards and seven touchdowns. Meacham expects even more out of the 5-foot-10 speedster as a junior.
"He can make everybody miss and score," the coordinator and receivers coach replied, when asked to identify Sims' greatest tools on the field. "He'll make you miss. He'll score. He has strong hands, he catches, he makes the tough catches in traffic. And he's fearless and he's explosive. And he can make you miss."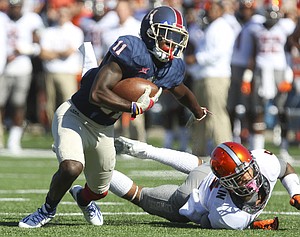 KU's most impactful returning skill player by a long shot, Sims' ability to make game-altering plays this fall figures to be aided by more consistent quarterback play — from either junior transfer Peyton Bender or redshirt sophomore Carter Stanley — the addition of former Alabama receiver Daylon Charlot, and the development of the receiving corps overall, with senior Bobby Hartzog Jr., juniors Jeremiah Booker, Ryan Schadler and Kerr Johnson Jr., sophomore Chase Harrell and freshman Quan Hampton all expected to shape Meacham's offense.
Sims sets the standard for the group, and he wants his teammates to experience just as much success as him this coming season.
"Everything that the guys do, I expect that out of them. We expect a lot out of each other. That's just our room," Sims explained. "We're a competitive room, so making that big play, that's the norm with us. That's what we're supposed to do. That's our job."
The list of Sims' occupational requirements is extending, too. Head coach David Beaty earlier this week identified Sims as KU's No. 1 punt returner — a responsibility the receiver has looked forward to taking on since accepting a stint as a returner in the Jayhawks' 2016 finale.
Beaty doesn't find himself worrying about giving Sims another task when the offense needs the play-maker's receiving skills, though, in part because KU's punt returning turned disastrous a year ago (last in FBS, with -10 yards on the season).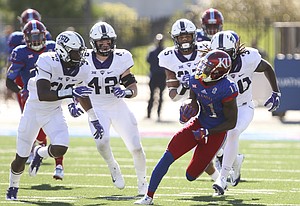 Since dismissed from the program for an undisclosed violation of team rules, LaQuvionte Gonzalez fumbled two punt returns in KU's Week 2 home loss to Ohio, then muffed a punt return in consecutive weeks late in 2016. Beaty doesn't hesitate to use Sims in the spot going forward, because he trusts his junior wideout's hands.
"The ball is everything. So the number one thing is possession, and we've got to put our most sure-handed people back there to gain the possession back," Beaty said. "We saw what happens when you don't do it, to the tune of several muffs last year. A couple of them probably put us out of games before we could even bat an eye. So that's very important."
Beaty cited Oklahoma's use of Biletnikoff Award-winner Dede Westrbrook as a returner this past season as further proof of how important that role should be considered. Meacham, who as an assistant at Oklahoma State saw receiver Dez Bryant shine on special teams, thinks KU needs to practice caution with Sims, due to the high volume of reps he'll get as a receiver. Beaty agreed.
"You can get hurt walking off that curb. We're going to be mindful, but from that standpoint we feel like Steven can be a weapon for us back there," KU's third-year head coach said. "And quite honestly to help him. We think that guy's got a chance after his career here to play at that next level, and if he's going to be what he can be he's got to be able to do something on special teams like return."
His professional potential first flashed in his breakout sophomore season within an often putrid passing game. Sims' 859-yard season ranks ninth all-time in KU's record books. So it comes as no surprise Meacham is most excited about Sims the passing target. KU's coordinator thinks the junior receiver's skill set should translate to big numbers for Sims, while also benefiting the entire offense.
"With his reputation and you watch film he makes plays. Those guys help everything else work," Meacham said, "because now you've got a low corner and a high safety to him. It really helps in a lot of other areas. So what do you do? You try to match him up or you try to get him singled up and you just hope they play man-free and you can throw a deep ball."
Ask Sims what has him fired up about this fall and due to his humble nature, he'll reference KU's depth at receiver. He'll speak of Charlot, Booker, Harrell and Johnson, and each individual's play-making ability.
But what about that Steven Sims guy?
"He's gotta keep working," Sims will reply.