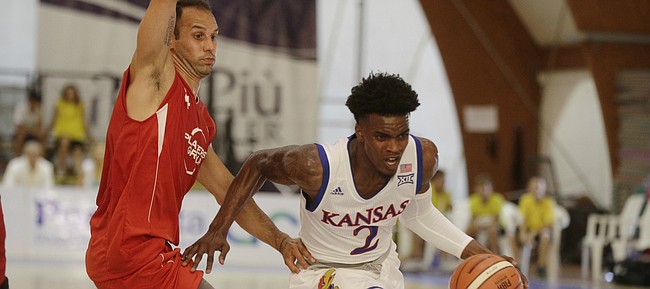 Senior-to-be Devonte' Graham and newcomer Malik Newman are getting a lot of love from fans, analysts and followers of Kansas basketball who already are deep in the process of looking ahead to the 2017-18 season.
And Newman believes they're making a mistake.
"I hear a lot about me and Tae in the backcourt next year," Newman Tweeted back on April 28. "But people really sleeping on (Vick)."
That might not be the case for long, as Vick showed during the team's recent trip to Italy that he has the ability and the drive to be an enormous part of the 2017-18 team.
After a slow start to the exhibition trip in Rome — 12 points in two games on 5-of-12 shooting — Vick heated up when the team reached Milan, finishing with 18 and 20 points in the final two games of the trip on 8-of-10 shooting in each game.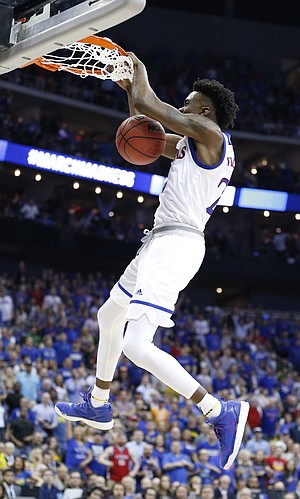 For the overseas tour as a whole, Vick averaged 12.5 points and shot 66 percent from the floor in 23 minutes per game. Perhaps the best part of all of that for Kansas was the fact that very little of Vick's production in Italy came from 3-point range, where he shot 37 percent during the 2016-17 season in a supporting role on KU's 31-5 Elite Eight team.
Consider the jump the latest in Vick's progression, from bench option to bona fide weapon. In fact, Vick has come so far in such a short time that Kansas coach Bill Self repeatedly has called him this team's best option at getting by defenders and driving to the rim.
As far back as last summer, Vick started to turn heads by lighting up practice gyms and playing — and scoring — at a more aggressive rate than he ever did during his first season in Lawrence.
After playing in just 19 of 38 games as a true freshman, Vick made the leap to full-time rotation player during the 2016-17 season, playing in all 36 of KU's games and starting six.
His minutes-per-game average increased by 20 from Year 1 to Year 2, his points per game jumped by 5.3 and he blew out of the water his rebounding, assist and steal totals from his freshman season, thanks mostly to his increased opportunities.
Now set to enter his junior season, Vick is approaching things from a completely different mindset. Rather than viewing himself as someone who can help the team, he has started to look at his role as much more important than that.
"Yeah, definitely a leadership role," Vick said at the start of the 2017 offseason. "You know, just work hard, always do the right things, team instead of I and stepping up when the team needs you off the court and on the court. It's just a bunch of different things."
With both Vick's game and mentality constantly evolving, Self said he believed big things were in store for the junior from Memphis.
"I do," Self told the Journal-World when asked if he thought Vick was ready for another significant jump. "I think Lagerald went from nowhere to being an NBA prospect (last season) and I think he could play himself into being an NBA player not just a prospect."
In mid-July, Vick's showing at the Under Armor All-America camp in Philadelphia generated significant buzz among the more than 30 NBA scouts in attendance. And his size, length and athleticism easily put him in the conversation for 2018 and 2019 NBA mock drafts.
So how will Vick get from his current status to a position where he's worthy of a spot in the NBA?
"He's still got a lot to work on," Self added. "He's got to improve his shot, he's inconsistent, his feel for the game, a lot of things. And he's not a lock-down defender yet. There's a lot of things he could do to get better, but the jump that he made was pretty remarkable considering we recruited him hoping that he could be a rotation guy and then become a player and, even though he didn't start, we basically had six starters (last) year, they all played about the same. At least he and Svi (Mykhailiuk) and Landen (Lucas)."
Whether Vick makes the jump to full-time starter in 2017-18 or remains in an instant-offense role off the bench, it's clear already that the 6-foot-5 guard is going to be an important part of a Kansas team gunning for Big 12 title No. 14 in a row and a return trip to the Final Four.
Said KU assistant Norm Roberts during an interview with the Jayhawk Radio Network from Italy: "He's just playing with a free mind. He can do so much. He can attack the basket. He can get in the lane whenever he wants to. He's doing a great job of driving to pass not only to score but also to set people up. His game is really becoming more and more complete."