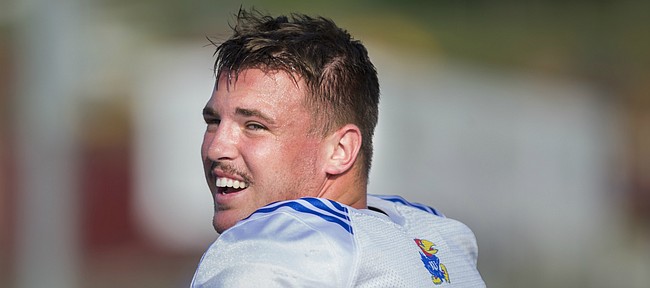 "With great mustache comes great responsibility."
— Peter Griffin, "Family Guy"
• • • • •
Earlier this summer, Joe Dineen went a few days without shaving, accumulating what he described as "a little peach fuzz" on his face.
Only somewhat visible within that fresh blonde crop stood a mustache worthy of the 1970s or 80s, which Dineen thought could give him a unique look for Kansas football's team photos.
The redshirt junior linebacker lacked the dye to make the stache pop at the time, though, so Dineen decided to wait until preseason camp to unleash his old school image.
"I decided it's go-time. Time to dye this thing in, get ready to go," Dineen said.
As the program veteran and leader expected, the hair follicles were more of a hit with some than others.
"He's actually working it," KU defensive coordinator Clint Bowen said. "If anyone could pull it off, it'd be him."
Junior quarterback Peyton Bender, who adopted a handlebar mustache look of his own at camp, claimed he loved Dineen's vintage choice, and said few Jayhawks gave him a hard time.
"I think for the most part I really only heard positives about it," a grinning Bender reported. "It's been a good thing."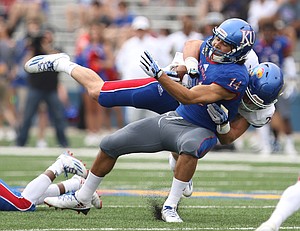 However, fellow Lawrence native, teammate and longtime buddy Keith Loneker Jr. didn't hold any punches when asked if he liked Dineen's retro style.
"No. I'll tell you one thing: His girlfriend does not like it at all," Loneker added. "At first I kind of liked it. Now I can't look him in the face. It's got to go."
Of course, all of these reviews came with a wry tone, and gave players and coaches a more lighthearted topic than usual to discuss, which was the whole point of the great mustache experiment.
Fellow linebacker Osaze Ogbebor said Dineen's mustachioed appearance caught a lot of people off guard in the midst of what's otherwise one of the most intense times of year for college football players.
"It was something new," Ogbebor, a junior, said. "But it brought life to the linebacking corps, for sure."
A year ago, Ogbebor added, Dineen bleached the hair atop his head.
"He does something every camp to make a joke for camp, so this summer it was the stache. It was a nice twist to it," a laughing Ogbebor added.
Cheesy as it may sound (or look), Dineen reducing the tension with a little fun is just one example of his leadership, a quality Bowen said the fourth-year player (Dineen received a medical redshirt for 2016 after suffering a season-ending hamstring injury in Week 3) has grown into over the past few seasons.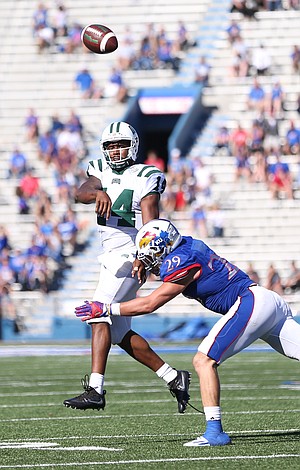 "I think before you can lead you have to first prove you can do your job. Once he started doing his job at a high level I think he started feeling the responsibility to move up a little to start leading," Bowen said. "He's embraced that role."
Dineen is the most experienced man in the linebacker room, where juniors Loneker, Ogbebor and Denzel Feaster, redshirt freshman Dru Prox and true freshman Kyron Johnson give the Jayhawks greater competition and depth at the position than they had a year ago.
"We're sitting there about three deep at each spot," Bowen said, identifying Loneker, Ogbebor and Feaster as the middle linebackers, and Dineen, Prox and Johnson as the weak-side defenders at the spot. "So it is good."
In his last full season, 2015, Dineen made 86 tackles, 6.5 tackles for loss and three sacks, as a sophomore. Heading into this fall, his teammates expect a bounce-back season for the hometown linebacker.
"Joe can do everything," Ogbebor said of Dineen's strengths. "He's fast, strong. He's always around the ball. It's just like, tell him what you need him to do. He can catch. Joe's an all-around linebacker."
And he can grow facial hair — kind of.
"It's been everything I dreamed of and more," Dineen jested of his mustache. "It's getting a little bit more publicity than I thought it would."
And it served its purpose, so don't expect to see the stache gracing the linebacker's mug when KU opens the season Sept. 2 versus Southeast Missouri State. A source with knowledge of the dyed strip of hair said Dineen shaved it off this weekend, coinciding with the team checking out of the hotel players stayed at for camp — forcing Dineen out in public more often.
Excited by KU's linebacking depth, Dineen, the now clean-shaven face of the group, can't quite believe he's become one of the defense's leaders.
"Stuff goes by so fast. It's crazy. I remember back in my first camp I wasn't getting any reps and I was frustrated with that. And now, dang, I'm an old guy? It's weird. I'm over 21 now, though, so my life's going downhill anyways," Dineen joked.