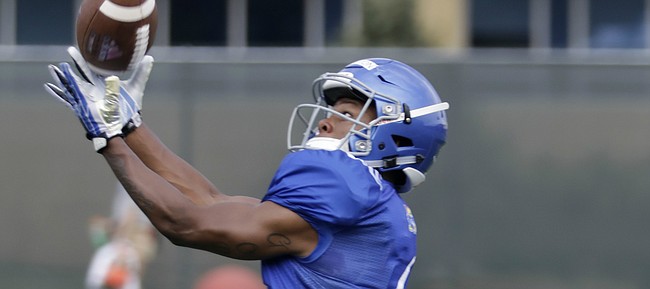 After several practices and more repetitions and routes than anyone in his group could count, sophomore Daylon Charlot understood what each of his fellow Kansas receivers brought to the mix at preseason camp.
The former Alabama wideout came away impressed with three Jayhawks in particular: juniors Steven Sims Jr. and Jeremiah Booker, and Quan Hampton, a true freshman.
"Quan, he just came in but he's getting everything down pat," Charlot said of the Texarkana, Texas, native, who began turning heads when he arrived in Lawrence in June for offseason workouts. "He knows what he has to do. It's like he's been here before. He's bringing a lot of stuff to the team that we will need."
Hampton, District 16's Offensive MVP during his senior season at Texas High, may only stand 5 feet, 8 inches tall and weigh 170 pounds, but his presence has been too large to ignore.
Since KU opened camp this past week, head coach David Beaty repeatedly has lauded the athletic receiver.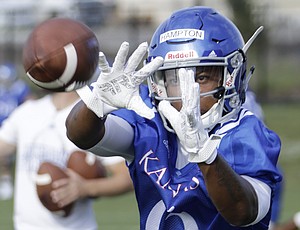 "Quan Hampton, another young kid that every time he touches it, I mean, he's not scared," Beaty said. "That boy is intense now. I mean, he is intense. He plays."
While Charlot and Sims project as KU's top passing targets in coordinator Doug Meacham's Air Raid offense, it's not as if the team's pool of receiving talent ends there, making it possible for a first-year player to look exceptional. The group also includes the aforementioned Booker, as well as senior Bobby Hartzog Jr., juniors Kerr Johnson Jr., Ryan Schadler and Tyler Patrick, sophomores Chase Harrell and Evan Fairs, and freshmen Takulve Williams, Travis Jordan and Kwamie Lassiter II.
Among all of them, Charlot said Sims is the fastest, but ranked Hampton No. 2.
The fleet newcomer generates buzz out of the slot, Sims said, because of his consistency and work ethic.
"He wants to know everything," said Sims, KU's leading returning wideout. "Quick guy. I feel like he's going to make a lot of plays for us. He can make big plays for us this year."
Meacham's plan is for multiple receivers to impact games through the air every week. He wants the ball dispersed to a variety of players to keep defenses guessing. And KU's offensive coordinator sees Hampton fitting well into that strategy.
"He's a guy you can throw low and he can make it a big play," Meacham said of Hampton, who, he added, has the ability to make someone miss and "go to the house."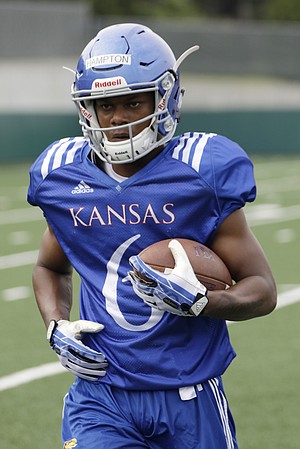 What's more, KU's top two quarterbacks, junior Peyton Bender and sophomore Carter Stanley, already have learned they can trust the true freshman when they throw the ball his direction.
"I really like how he's definitive in his route-running," Bender said. "That makes him reliable as a receiver to throw to, because I know when he's going to break. I know where he's going to be. He's got real good hands, real soft hands, catches most of the things thrown his way."
That's just one element of what makes Hampton so tantalizing, though, according to Stanley.
"He's ridiculous. I think he's like 5-8, but he can dunk. Incredible athlete. Super-quick out of his breaks," Stanley raved. "Just one of those guys that loves football. You can tell it. Just when we're out there practicing he's flying around everywhere, he's dying to get on the field and in the rotation. So definitely a hard worker and what we want in this program."
Both quarterbacks reported Hampton's mental approach allows all of his skills to shine at an early stage.
Said Bender: "You see guys come in who have good talent but sometimes are thinking too much. The thing about Quan is he's mature enough to really hone in on the offense and go to school on it. And you can see on the field he's not busting any plays; he's running what he needs to run."
Even Beaty tries to temper his excitement when discussing true freshmen. The more KU's third-year coach sees out of Hampton, though, the more he is encouraged about the youngster's immediate potential.
"He's just a guy that continues to make plays out there," Beaty said. "You see a guy make one or two, you're like, 'All right,' you know. 'He's young.' But he continues to make play after play, after play, after play. He's doing well."