For all that ailed the Kansas offense in 2016, nothing deflated the football team's chances a year ago quite like turnovers.
With 14 fumbles lost and 22 interceptions thrown the Jayhawks ranked dead-last (128th) in FBS, with their 36 giveaways.
None of that, of course, happened under the watch of first-year KU offensive coordinator Doug Meacham, who joined David Beaty's staff this offseason after working as a co-coordinator at TCU.
While Meacham plans to prioritize getting rid of such costly flubs this coming season, he also said he doesn't really care how poorly KU performed in that category the season before his arrival.
"We're looking forward. I don't talk about last year," Meacham said. "I'm gonna talk about next year and what we have to do to protect it."
After KU completed its seventh preseason practice Monday morning, Meacham explained why even if he witnesses the defense make an interception against quarterbacks Peyton Bender and Carter Stanley during live periods there are times when he doesn't read as much into those as others. At camp sessions, Meacham said, the offense faces a lot of tight coverages from KU cornerbacks.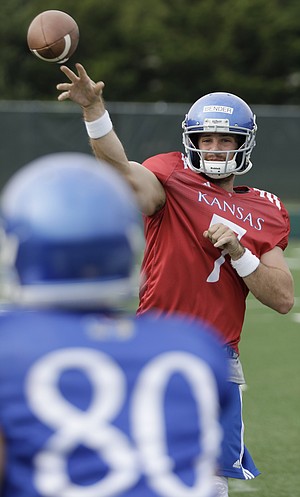 "There's times that guys just get cut off and a defensive guy's making a good play — it's not necessarily a quarterback's making an improper read," Meacham explained. "Some of it just has to do with physicality and a guy making a play and producing."
A week into August practices, the new coordinator said he is pleased with the offense and how the Jayhawks are trending in the right direction with ball security.
"When you whittle it down — you come up with a game plan and you hone it in — it's going to be such a cleaner product than what you see when you're just throwing plays out there every day (at camp), different samples of plays," Meacham said.
Charlot sits out
KU head coach David Beaty didn't meet with media Monday, so Meacham provided some insight as to why sophomore receiver Daylon Charlot didn't participate in drills at the morning practice.
According to Meacham the former Alabama receiver "tweaked" something at Saturday's practice and will likely be out a few days.
"He's fine. They went and gave him an MRI and everything. He's clean, he's good," Meacham said. "He just has to let a few days go by and let it settle down a little bit."
Fair share of snaps for QBs
As the ongoing quarterback competition continues between junior transfer Bender and redshirt sophomore Stanley, Meacham said the duo go back and forth with equal amounts of reps, as well as identical numbers of snaps with the first and second units.
"You're with the one receivers and the one O-line, you've got a little bit more pure picture of what you're going to get," Meacham said.
Riley's impact
While Meacham brought his own distinct style of the Air Raid offense with him to Kansas, the former TCU assistant said he has found himself making slight alterations over the past several months, as he works with KU quarterbacks coach Garrett Riley.
"He's great. And it's good because he comes from an Air Raid background. He's thrown," Meacham said of Riley, who was a reserve at Texas Tech when Mike Leach still coached there. "There's a lot of things that he's put into his version of it and we've kind of morphed into a few things that are a little different than what I had done, maybe with a couple of route adjustments and things like that."
The KU quarterbacks, Meacham added, love Riley, whom the coordinator described as patient and calm, with a knack for teaching the intricacies of the offense.
https://www.youtube.com/watch?v=oOX6SV35OO4
https://www.youtube.com/watch?v=3rh3ROEwZ7Q