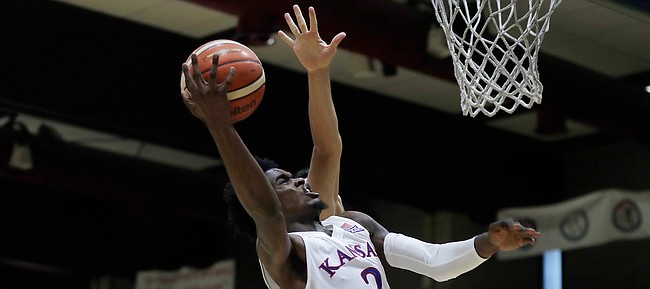 Milan, Italy — Their biggest competition on Saturday night at Palasport gymnasium just outside of Millan might have been the temperature gauge. And judging by that metric, the Jayhawks were in a more of a dog fight than the 99-71 final score indicated in their second victory against Italian-based Players Group in the past three days.
"I just can't get over how hot it is," KU coach Bill Self said after the victory. "I mean, good gosh, it's gotta be close to 100 degrees in there. So for our guys to play as much as they did, I think their conditioning must be pretty good."
A temperature based score of 100-99 would have made for a much more competitive night, but Players Group did its best to elevate the competitiveness of the game, hanging in there in the first quarter (20-11) and trailing just 43-32 at halftime.
"I actually thought the first quarter was by far the best we've played the entire deal," Self said. "We just didn't make shots. If we'd have made some shots, if we weren't 4-of-19 from 3, we would've really opened that up early on."
Instead, KU finished just 10-of-32 from 3-point range and used transition offense and Lagerald Vick off the bounce to sprint to victory.
Vick led all scorers with 18 points on 8-of-10 shooting, most of them coming via drives to the rim and dunks in transition.
The KU junior sparked an 11-0 run to open the second half with an emphatic finish on an alley-oop straight out of the locker room and that run put Kansas (3-0 in Italy) on cruise control the rest of the way.
"Just going in ready to play and just being aggressive," said Vick when asked after the game what was working for him during Saturday's win. "Just running the floor, beating my man down the court and my teammates pitching the ball ahead. Leave it all out there and I give credit to the team."
While a tight game at the half might not be Self's preference most of the year, the KU coach was appreciative of the opportunity to test his team a little in the locker room during the break. And, based on Self's mood after the game, it seemed clear that his team passed the test.
"It was 11 at halftime but it could've been 25," said Self, again alluding to his team's 44 percent shooting percentage. "But, yeah, that was better. We didn't close the half out very well at all and then we came out and started the second half pretty good."
The Vick alley-oop, from Malik Newman (16 points), injected some life into the arena and their teammates took it from there. Freshman Billy Preston scored in the post on the very next possession, Vick converted a hard-driving scoop shot seconds later and Devonte' Graham's pull-up 3-pointer (10 points, six assist, zero turnovers) in transition, which drew a smile and a point to the bench, forced Players Group to call a timeout.
Preston scored again out of the timeout and, just like that, the Jayhawks led 54-32.
Vick's play and KU's solid execution in transition was particularly important given the absence of sophomore center Udoka Azubuike who missed the game because of an illness.
Azubuike was not even in the gym for the Jayhawks' Game 3 win.
"He just didn't feel good," Self said. "He didn't feel good at all. I really doubt that he'll be able to go (Sunday)."
Missing the big man left a hole in the Jayhawks' front court and put greater importance on guard play. So far this trip, Azubuike had been responsible for 28 points on 13-of-16 shooting, most of them coming off of easy and intimidating dunks.
"I told the guys at halftime that if we had 'Dok, the way we were moving it and spreading it, he probably would've had five dunks already," Self said.
What the Jayhawks missed in dunks they made up for in confidence for freshman Preston, who led Kansas with seven rebounds and also added nine points in the win.
"I thought this was by far the best Billy played," Self said. "He got rebounds with both hands above the rim a couple times and we talked about that today, right before the game. With 'Dok being out he's our biggest guy and he had to play bigger. I actually thought he played pretty well. He made post moves instead of just living on the perimeter and I thought it was the best he's played."
Preston might as well have been a representative for the entire team in Self's eyes, as the KU coach was more than complimentary of his team's toughness to fight through the heat and execution in tough conditions following the win.
"(I'm) probably as encouraged as I've been since we've been over here with our play," Self said. "As far as playing the right way and moving the ball and we took care of the ball. The only thing we didn't do was make shots and we don't rebound yet. But I do think we'll become a pretty decent rebounding team."
The Jayhawks will get one more crack to be that team on Italian soil at Noon, central time, today. Prior to that, they'll visit Milan's famed Cathedral Duomo and enjoy a two-hour city bus tour of Milan before heading back to Palasport gymnasium.
Several locals have said they are expecting cooler temperatures for the duration of KU's stay in Italy.