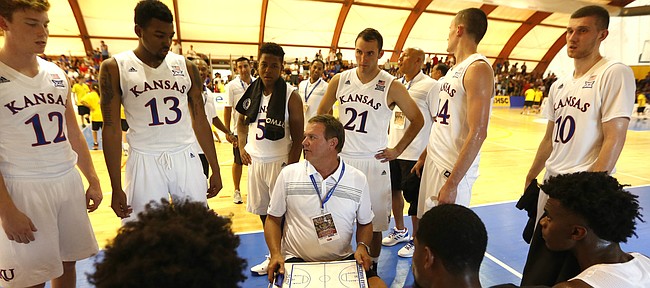 Rome — The signature moment of the Kansas basketball team's 90-56 victory in its Italian exhibition opener over Stella Azzurra/HSC Roma was not the three monster dunks by sophomore center Udoka Azubuike nor the three Devonte' Graham 3-pointers that unofficially kicked off the KU point guard's senior season.
Instead, it was the softer, less violent, two-handed dunks by Azubuike that followed his rim-rattlers.
The reason? Had Azubuike elected instead to continue to try to rip down the rim like he once did in high school, there might not have been a game to finish.
Instead, Azubuike "chilled out" — at the request of KU coach Bill Self who, "jumped his butt," — and the Jayhawks cruised to an easy win in front of 1,000 or so people at hot and steamy Honey Sport City gymnasium in southwest Rome.
Photo Gallery
KU Italian tour: First exhibition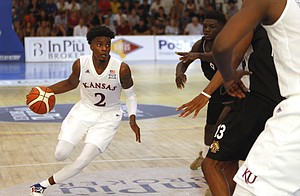 The Jayhawks roll in Rome, 90-56, vs. Stella Azzurra Roma HSC
"He tried to break the whole goal and we almost couldn't play no more games out here," a half-kidding Graham said while crashing Azubuike's postgame meeting with the media.
Graham was only partly joking, though. After Azubuike's third and-one flush that sent the basket rocking at its base, venue officials checked on the basket during a timeout and readjusted the base to give it more support. All of this with Kansas coach Bill Self standing over their shoulder watching them.
"You got it," Self asked before receiving a thumbs up. It was at that point that he walked over and ever-so-bluntly explained to his second-year center that he needed to adjust his approach the rest of the night.
"We almost didn't have a game because of him," Self said. "And it wasn't that he dunked it so hard, it was because he hung on the rim — 285 pounds hanging on the rim almost pulled it down twice."
Added senior Svi Mykhailiuk: "You know, he's a monster and I think he's going to bring some rims down this year. If he wouldn't have let it go, I think it would've come down."
For Azubuike, the mere idea of taking it easy on the rim goes against his entire mentality as a player.
"That's pretty much my game," the 7-foot Nigerian center said of his raw power performance. "This is not my first time dunking like that. "I told (Self), 'That's how I play. That's my game. Once I'm out there, that's the way I dunk.' But he told me to chill out a little bit."
So he did. After tallying seven points on 3-of-4 shooting in the first half, Azubuike finished with 13 points on 6-of-7 shooting in 14 minutes. Twice during the second half he more or less threw the ball through the rim and into the net instead of dunking it. And on one of them, he finished the lay-in despite getting bumped off of his line.
Azubuike's double-digit night was not the only one in a Kansas uniform, just the loudest. Graham (14 points, 9 assists) and Malik Newman (16) combined to shoot 10-of-14 from the floor and freshman forward Billy Preston (10 points) got off to a fast start in his first start as a Jayhawk.
"They're not gonna shoot the ball that well all year long," Self said of Graham and Newman. "But when they make shots they're pretty good together. I thought they both played good. They all did fine after they got a little bit of rhythm."
After racing out to a 15-5 lead behind a couple of Graham 3-pointers, the Jayhawks saw the lead shrink to five after a sloppy couple of minutes. From there, KU ripped off a 21-5 run and then opened the second half with a 19-3 spurt to take complete control of the game.
Kansas snagged 17 steals and forced 31 turnovers in the easy victory.
That allowed Self to limit the minutes he played his regulars, with all 13 Jayhawks who played topping 10 minutes and averaging just 15 per player. Only Graham (20) and Cal transfer Charlie Moore (21) saw their minutes top 20.
Dunks or not, Self said he was pleased with how Azubuike handled his return to live game action after the wrist injury that cost him all but 11 games as a freshman. But he still would like to see more from his ever-improving center.
"It'd be nice if he could do that every night," Self said. "But he needs to learn to score with someone between him and the basket."
The Jayhawks will return to the Honey Sport City gym, which was about a 35-minute bus ride from their hotel, on Thursday night for Game 2 of their Italian tour against Players Group. Tip-off is slated for 6:30 p.m. in Rome, 11:30 a.m. central time.
Prior to that, the Jayhawks will travel to Vatican City for another tour of the local culture.