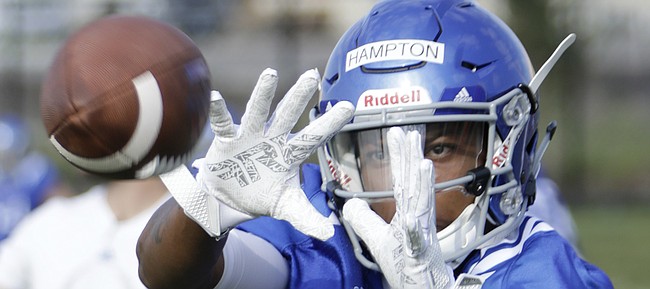 Sure, new Kansas football coordinator Doug Meacham is in charge of the entire offense. But when Meacham runs back and forth across the practice fields he finds himself zeroing on the receivers he coaches.
So if you ask him after a preseason camp session how KU quarterbacks looked, he'll answer honestly. He doesn't study Peyton Bender or Carter Stanley, leaving that to their position coach, Garrett Riley. After practices conclude, Meacham dives into the video footage of the QB's. But his on-field focus is devoted to their targets.
Camp just began Monday, so the first receivers the coordinator mentioned were the ones he's just getting to know.
"Newcomer wise I loved this Quan Hampton guy," Meacham said of the 5-foot-8, 170-pound true freshman from Texarkana, Texas. "He's doing good. He's got some ability."
Fast with great leaping ability, Hampton lines up inside in Meacham's Air Raid. The same goes for another true freshman, 6-foot, 185-pound Takulve Williams, whom KU's receivers coach thinks has natural ball-catching ability.
"Seems to be a savvy guy," Meacham added of Williams, from New Orleans. "I really like those guys. Man, we needed them, too."
Receivers such as Hampton and Williams have a better chance at cracking KU's rotation now, with the departure of would-be senior LaQuvionte Gonzalez, who was kicked off the team before the start of preseason camp.
Meacham said Tuesday he liked what he saw out of his receiving group, which includes Steven Sims Jr., Daylon Charlot, Chase Harrell, Ryan Schadler, Jeremiah Booker, Tyler Patrick, Kerr Johnson Jr. and others.
"First day non-padded you can't get too excited," Meacham added. "I think you can get real excited early and be disappointed later. But they're all locked in."
While installing the offense at practices, Meacham said KU runs one-third of the playbook — and only that portion of the playbook — each day. After three practices, they the cycle repeats itself.
He estimated they run 12 to 15 plays per day. Then each time they re-visit a certain portion of the playbook, he may tweak some things or add a different formation or motion.
"Just trying to get as much film as you can of them doing our base plays," Meacham explained, "so that when we start game-planning they're familiar with it."