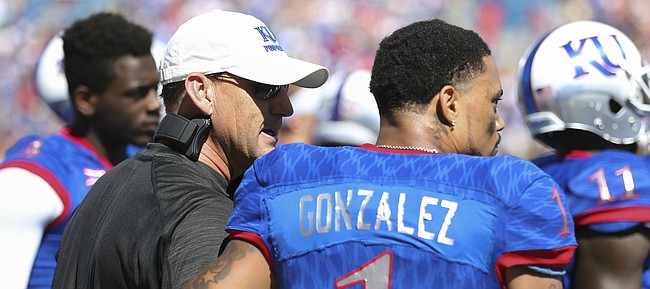 Kansas football coach David Beaty declined to specify Tuesday what former receiver LaQuvionte Gonzalez did to earn a dismissal from the program just days before preseason camp began.
"We have standards that we expect our players to follow, and if they fail to do that at some point there will be (punishment), including and up to removal and dismissal from our program," Beaty told reporters following a morning practice, speaking on the matter for the first time. "It doesn't mean you're a bad person. It just means you can't play here. And we all have standards that we're going to uphold and we have to meet those — we've got to meet them as a team. And we've got to be able to do that consistently."
Beaty's relationship with Gonzalez dates back to his days as an assistant at Texas A & M, when Beaty successfully recruited the Cedar Hill, Texas, wideout to play in the SEC.
Photo Gallery
KU football preseason practice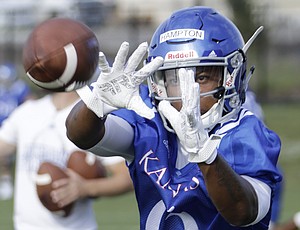 Kansas football players go through drills during a preseason practice on Tuesday, Aug. 1, 2017.
The KU coach went out of his way on a day he would have preferred to focus on the positives of fall camp to make it clear he brought down the hammer on a player he previously had referred to as his "son," because he wanted the best for Gonzalez.
"Keep in mind the goal is not to get rid of a person who might show bad characteristics. It's to be able to remove those bad characteristics so they can live a long, fruitful, productive life," Beaty said. "Unfortunately, one of the pieces of accountability — in this instance, the one that will probably help him the most — is the one that was hardest for me to make. You guys know how much I care and love for Quiv. But I love this team just as much as I love him, if not more."
Gonzalez proved productive within a struggling KU offense in 2016. So Beaty's decision to boot the fast, 5-foot-10 wideout impacted the Jayhawks' depth at a key position. Gonzalez caught 62 passes for 729 yards, contributing three touchdowns on offense during his lone year on the field.
KU's third-year head coach said dismissing Gonzalez involved a process and not a snap decision. Beaty hoped by demonstrating some "tough love" his personally difficult resolution also would teach a lesson.
"So in the long run, the decision for him to part ways with us is going to be the best decision for both us and him. It'll be something that serves him well as he moves forward in his life," the coach predicted. "It'll be something that serves us well as we move forward as a team."
The highlights of Gonzalez's brief KU career included a 99-yard kickoff return for a touchdown versus Ohio, as well as a 95-yard reception TD from Carter Stanley at Kansas State.
This fall would've been Gonzalez's senior season. He transferred to Kansas after playing two years at Texas A & M, under Beaty, the program's receivers coach at that time.
"We thank him for all that he did," Beaty said of his longtime pupil. "He is not a bad person. He is not a bad kid. Anybody that gets him is going to be getting a special kid, and I hope that he'll move on and be better for it as he moves on in his career."
Attempts to reach Gonzalez for comment were unsuccessful.