Currently in his 18th season working on the Kansas football staff in some capacity, defensive coordinator and assistant head coach Clint Bowen, who also played in KU's secondary for three seasons in the early 1990s, has seen a multitude of Jayhawks try and make an impact as defensive linemen through the years.
Few have impressed Bowen more than junior defensive end Dorance Armstrong Jr., and junior tackle Daniel Wise, who provide KU with what their coach likes to call "two impact guys" on a defensive line expected to be one of the team's most productive units in 2017.
In becoming a consensus All-Big 12 defensive end as a sophomore, Armstrong made 20 tackles for loss and 10 sacks.
"He's a true talent," Bowen said of the 6-foot-4 end from Houston. "He's a very good player. He's a great kid."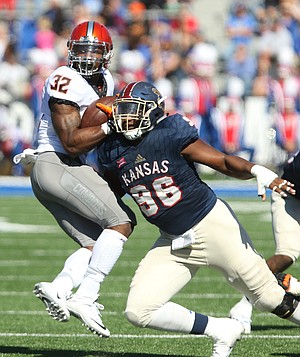 At tackle, Wise made 10 stops behind the line of scrimmage in 2016, and three sacks in 11 games. The 6-foot-3, 290-pound versatile lineman from Lewisville, Texas, picked up second-team All-Big 12 honors from the Associated Press.
"Daniel Wise, equally on the inside, is one of the better D-tackles," Bowen said, in discussing Wise and Armstrong as the anchors of KU's defensive front. "Both of them have proved that they're Big 12 guys."
With those two serving as the foundation of new D-line coach Jesse Williams' group, Bowen said Kansas should have a rotation "on the inside, especially" that can get the job done this coming fall.
Podcast episode
Kansas football beat writer Benton Smith joins Matt Tait to discuss what the 2017 Kansas football spring game taught us about David Beaty's Jayhawks.
Before he took over the unit for David Beaty's staff, Williams said he heard about the work ethic of Armstrong and Wise, as well as the overall closeness of linemen.
"That's something that you love to hear about a group, and then they've been great to work with," Williams said. "They don't bat an eye and they're not scared of hard work, so those are all things that help contribute."
Senior tackles DeeIsaac Davis and Isi Holani both debuted with the Jayhawks this past season, and Bowen reported they've continued to develop and improve this spring.
Junior tackle J.J. Holmes just arrived this semester as a transfer from Hutchinson Community College, and Bowen described him as "a huge body that moves really well," and predicted the 6-foot-3, 335-pound lineman will become a factor inside.
There are others, of course, who have at least some Big 12 experience, and KU would like to mold them into more regular contributors. On that matter, Bowen brought up senior end Kellen Ash, who in KU's season finale at Kansas State played more than usual and came away with a tackle for loss and a recovered fumble.
The longtime KU assistant made it clear the team's defensive ends, outside of Armstrong, need to continue to develop. Bowen said sophomore Isaiah Bean, junior Josh Ehambe (credited with three sacks in the spring game) and junior Willie McCaleb, a juco transfer from Northwest Mississippi C.C., all need to step up and give the Jayhawks more depth. Additionally, sophomore Maciah Long, who played some spot-duty wildcat quarterback in 2016, has taken reps at D-end throughout the spring.
Ultimately, Bowen isn't complaining about the line KU's defense will put on the field when the season finally arrives in September.
"In terms of having some impact guys, to have two guys that are Big 12-caliber type players, a lot of people would take that," he said.
Said Armstrong of the responsibility he and Wise share: "Everything starts with the D-line up front, so we've got to take control of that in order for the rest four defense to play good."
— Read more on KU's dominant defensive linemen: Armstrong and Wise only could have so much fun at Kansas spring game