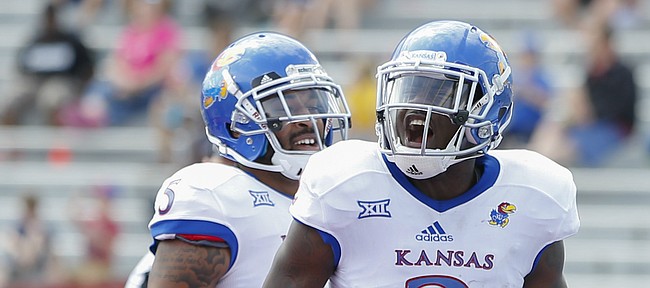 The team names atop this year's Kansas football spring game rosters read: Team Jayhawks and Team KU. As far as play-makers Daylon Charlot and Steven Sims Jr., were concerned, though, "Jayhawks" might as well have been replaced with "Wide receivers" or "Victorious."
KU's assistant coaches divided the teams via a mid-week player draft before Saturday's scrimmage at Memorial Stadium, and frontline receivers Charlot, Sims, LaQuvionte Gonzalez and Ryan Schadler all ended up on Tony Hull's side.
"When we saw the final draft board," Charlot said, "we were like, 'We won,' basically, because we had the starting receivers. If it was Peyton (Bender) or Carter (Stanley at quarterback) we still would have won. That's how we went into the game."
The former Alabama receiver's opinion proved correct, as he and Sims each scored a touchdown thanks to Bender throws, and Team Jayhawks prevailed, 14-7.
Photo Gallery
2017 Kansas Football Spring Game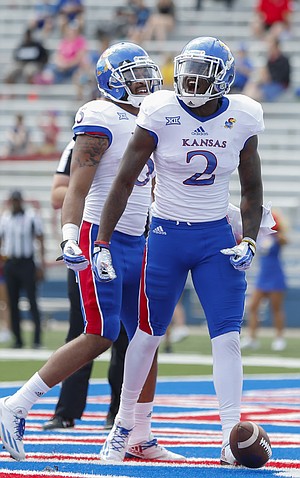 View a gallery of images from Saturday's Spring Game at Memorial Stadium.
With the scrimmage, featuring four quarters and a running clock, tied late, Bender completed one pass to Sims and two to Schadler on the game-winning drive, capped by a five-yard score for Charlot.
Third-year Kansas head coach David Beaty, who neutrally observed each snap at the spring game from roughly 20 yards behind the line of scrimmage, liked the way new offensive coordinator Doug Meacham got Charlot (three receptions, 45 yards and a touchdown) involved.
"Daylon showed a couple of really nice plays today that they're not normal," Beaty said of the 6-foot sophomore target. "Special guys make those type of plays. That touchdown down there that he got late in the game, that was a hard catch. He had to fight that guy to get the ball."
Team KU quarterback Carter Stanley watched the man he is competing against for the starting job, Bender, finish the scrimmage on top because of that throw, with 3:49 left on the game clock. Stanley (13-for-24, 114 yards) called it a great play on a play-action that helped Bender (11-for-15, 143 yards, two touchdowns) finish with a better stat line.
"Peyton did a great job with the fake, getting his eyes down on the ball to draw off the backers," Stanley said. "And I think Daylon did a great job — despite press, despite the situation he was in, he kept the details of his route and really bodied out the corner and made a nice play."
Bender, now in his first semester at KU after starting his career at Washington State and playing at Itawamba Community College (Miss.) in 2016, said winning the spring game meant something to him.
"It felt good. They let me get one more drive there at the end of the fourth quarter and I was trying to make the most of it," Bender said. "Schadler (three catches, 37 yards) ran a great route (on a 25-yard connection) and I think I hit him over the middle right about the five-yard line and just kind of set it up.
"Daylon ran a good slant for us," Bender added of the game-winner, "and I just had to fit it in a window. They were all clawing at the ball, but he's got strong hands and he was able to clamp down on it."
Sims, who caught two passes and scored a second-quarter TD, said Team Wide Receivers' players knew they would score in crunch time.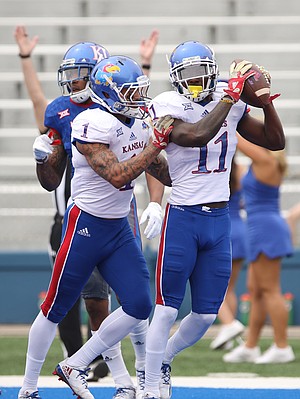 "We had to," Sims said. "We've been talking a lot of trash all week, so we had to back it up."
The playful jabs began, the junior receiver added, as soon as the rosters came out on Wednesday.
"That's what I told them. We're gonna torture these guys. It was fun," a smiling Sims said before giving Team KU, coached by co-defensive coordinator Kenny Perry, some credit. "The defense held their own today. They made us work for everything we got."
Saying that didn't stop Sims from, shortly after, placing his right hand above his shoulder when he saw safety Mike Lee looking his direction during postgame interviews. Sims just directed his pointer finger skyward and his thumb out, turning his hand into an "L."
It had only been a couple hours since the receiver scored to beat his hard-hitting teammate, Lee (six tackles and a pass breakup), on a play Bender checked down to 11 yards from the goal line.
"Quiv (Gonzalez) got a good block on the edge, I cut off Quiv's block, Mike missed a tackle and I got in the end zone," Sims said.
Offensively, junior running back Taylor Martin went for 43 yards on seven carries for KU while sophomore Khalil Herbert picked up 27 yards on six rushes for the Jayhawks.
Stanley's favorite targets proved to be senior tight end Ben Johnson, sophomore receiver Chase Harrell and junior receiver Kerr Johnson, all of whom had three receptions apiece.
Team KU might have had a trio of impactful defenders, with Lee and defensive linemen Dorance Armstrong Jr., and Daniel Wise. But Team Jayhawks held their own defensively, led by five tackles apiece by junior linebackers Keith Loneker Jr., and Joe Dineen, four tackles by sophomore corner Kyle Mayberry and three sacks from junior defensive end Josh Ehambe.
Team Jayhawks defenders combined for five sacks, and nine tackles for loss. And Team KU's only score came late in the first half, when No. 3 quarterback Tyriek Starks, a redshirt freshman, connected with Kwamie Lassiter II for a 24-yard score.
As predicted by a pair of confident receivers, the team with more perimeter offensive threats came out on top.
Said Bender: "We were hyped up whenever we drafted all those guys. You've gotta attribute that to our coaches over on the Jayhawk team. They had a nice draft. It was nice to be able to get that chemistry with all those guys and just continue to work with them in a game-like atmosphere."